Product leaders must do more than simply achieve product-market fit to keep customers.
Instead, they need to focus on improving SaaS product adoption on a continuous basis to create increasing value each month.
Churn is a part of every company's lifecycle, but it can spiral out of control if customer retention goes ignored. The repercussions of inflation have loomed over the B2B SaaS industry for at least the past year.
Both CRM software and virtual events platforms have a shared objective: boosting the product adoption rate. Active users determine long-term prospects, particularly in a crowded market.
To retain customers, SaaS providers need to reward user behavior that drives stickiness in a product — infinite feature adoption loops, if you will.
One effective strategy is the use of landing pages to improve feature adoption and engagement.
… But not in the way that you think.
---
⚡️ For B2B SaaS, product adoption is the number one strategic priority in 2023.
How To Improve SaaS Product Adoption With Landing Pages
Landing pages can be instrumental in ensuring customer success and, ultimately, the success of the SaaS company.
Adding landing page functionality to your software unlocks a new level of creativity and engagement not previously seen, especially in B2B apps such as CRM, marketing automation, and events.
Create infinite product-value loops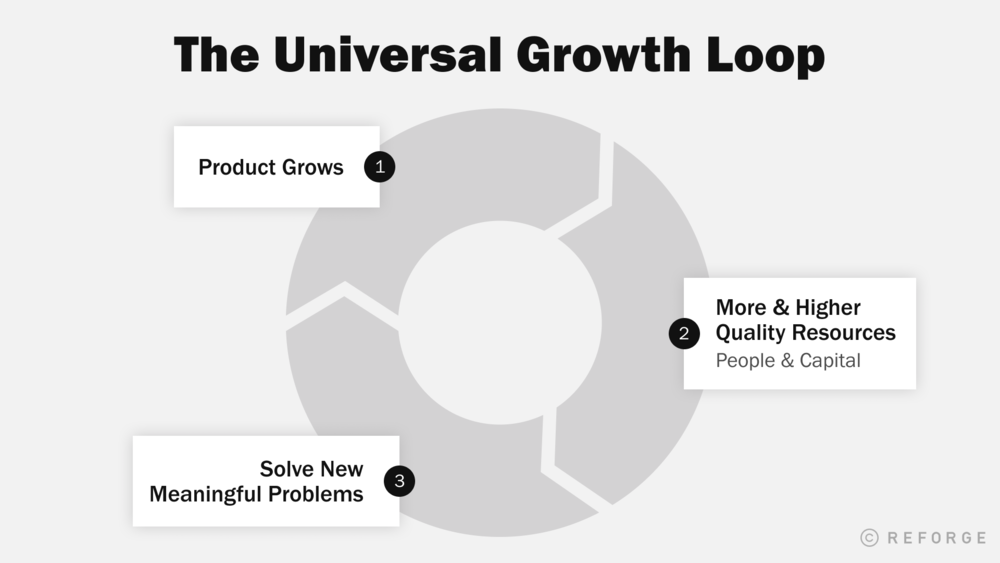 Brian Balfour's Universal Growth Loop (Product-Led Growth) supports this notion, as it underscores the importance of creating infinite product-value loops to drive customer success. By allowing businesses to build landing pages within the app, SaaS companies can see a surge in usage and an increase in customer loyalty.
If your company falls into the CRM or email marketing platform category, landing pages are strategically aligned with your business model.
HubSpot found that companies optimizing landing pages result in a 30% increase in conversions. Businesses with over 40 landing pages generate 12 times more leads than those with only five or fewer landing pages. 
Landing pages drive upsells, host webinars and product demos, and more, all of which contribute to customer engagement.
Retain more share of budget
For Sendinblue, a digital marketing platform, landing pages are among the top features that create loyal customers and partners. Without the functionality, users might look toward a competing app like Unbounce or GetResponse.
Considering that the typical landing page solution costs $30–200 per month, this can give you a sense of this feature's value for an existing software solution.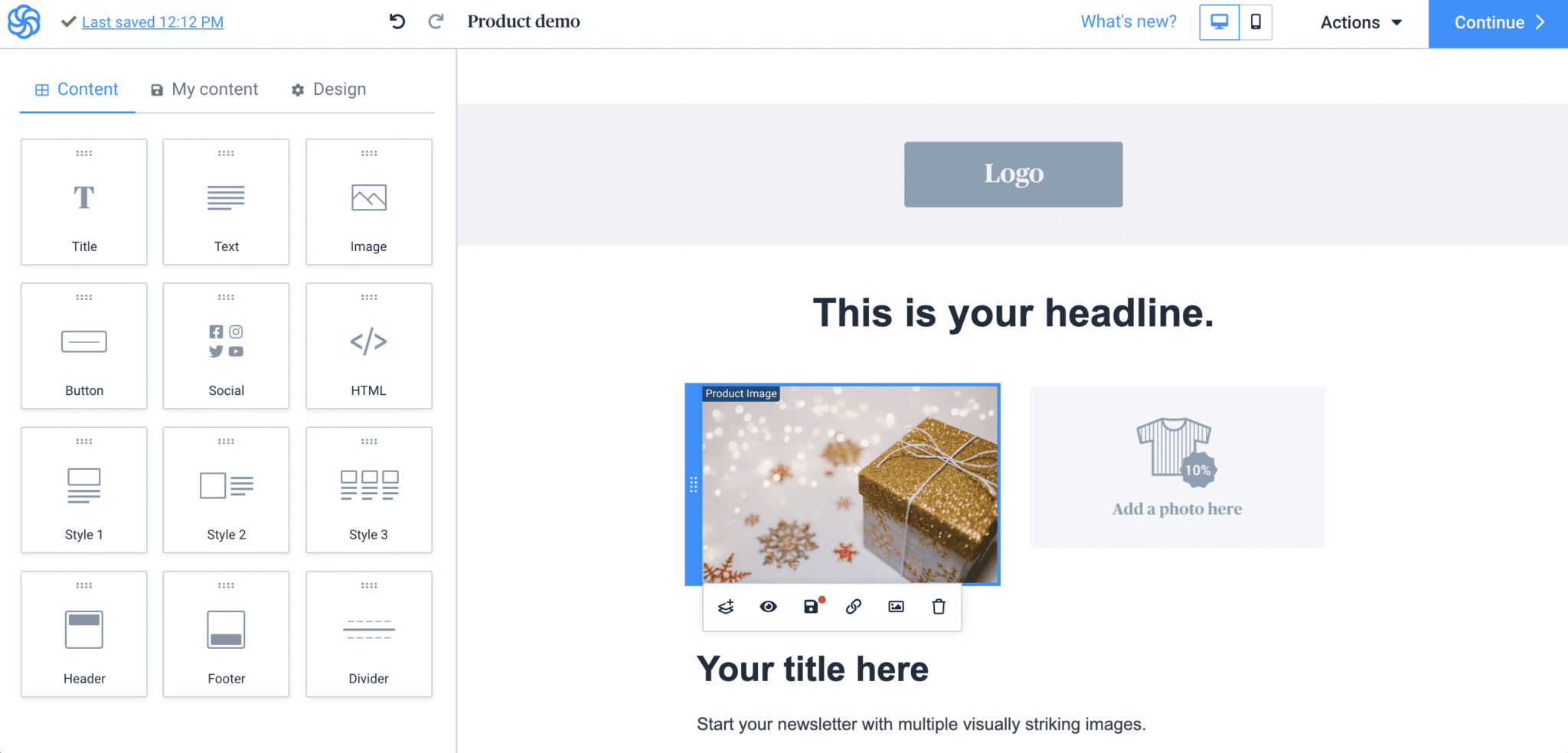 It's clear that landing pages are a worthwhile investment to grow their leads and sales. To improve SaaS product adoption rates, following the best practices in user onboarding, product marketing, and customer support is critical.
By tracking product SaaS metrics, you can gain visibility into the product adoption process and make adjustments to increase the adoption of new features. Promote user engagement with frequent product updates and leverage product analytics to measure the impact of your product adoption strategy.
SaaS Product Adoption Strategies for Increased User Engagement
In addition to impressive page builder features and experiences, where else should product leaders and founders focus on enhancing and maximizing product adoption rates?
Here are four actionable recommendations to increase user adoption and engagement:
1) Offer Customizable Templates
Customizable templates significantly reduce the amount of time and effort required to achieve a user's desired outcome.
They can also boost traffic, making them an effective product-led SEO strategy to increase customer acquisition.
2) Foster Community Growth
Establishing a private or semi-public community (Slack, Discord, or forums) for existing customers to connect, share best practices, and discuss product feedback can be a game-changer.
Being responsive to customer feedback encourages users to invest their time and energy in return, creating an environment of reciprocity.
3) Incentivize User Behavior Milestones
Offering customers upgrades and giveaways to reward frequent use and progress is a powerful way to increase user engagement and adoption. By making your new product memorable, customers will continue to use your product and recommend it to others.
4) Promote Referrals With Product Upgrades
Enticing customers to refer their friends by offering perks and bonuses can increase customer acquisition rates significantly. Leveraging personalized gifts can also elevate your brand's reputation and lead to new user adoption.
Product managers and founders can foster customer success, improve product adoption metrics, and enhance the overall product adoption process by elevating customer engagement along the product adoption curve.
Why bother?
Aligning a user adoption strategy to customer growth is critical to any product's success. Product leaders and founders can drive adoption rates, increase customer satisfaction and loyalty, and ultimately propel their businesses to new heights by focusing on enhancing user engagement and implementing effective adoption tactics.
How To Add a Page Builder to Your App
Not all page builders are the same — we covered white-label website builders in-depth here.
Several concerns a software company might have before venturing to create a page editor include:
Hosting
Security
Data integration
User experience
Templated pages
Custom functionality
Engineering resources
Competing product priorities

… But there's a better way.
White-Label Landing Page Platform: Convrrt
Convrrt is an enterprise-grade landing page platform that provides drop-in landing page features to any application. And it's fully branded as yours and can be tailored to your specific needs.
SaaS providers can add landing pages to their app in as fast as one month without extra development work using Convrrt.
So imagine it now: you can commit to launching new lead-generation features by next quarter! (Your CEO and board would love to hear that.)
Increase Product Usage: Add Landing Pages to Your App
These best practices can also help to boost feature adoption, attract active users, and increase adoption, which is essential for scaling your SaaS product.
It is also critical to have a strong user onboarding process to ensure that new users are effectively introduced to the product's features and capabilities, leading to long-term customer NPS gains and retention.
Product adoption is complicated, but adding a page builder to your current app can make a world of difference. Pages are one of the primary revenue drivers for companies, and this could be the best way to ensure customer success.
By offering a one-stop shop for page publishing, you're equipped to nurture your customers with powerful content, gain visibility in search engine results, and reward customer loyalty.
Ready to boost SaaS product adoption? Let's talk about how we can help.
Landing pages can be a powerful tool to improve customer acquisition and retention. Integrating them into your SaaS product can help users achieve their goals and drive revenue growth.