Landing pages are table stakes in digital marketing. These pages convert visitors into leads and customers. Behind the scenes, a landing page builder platform is the star of the show. It orchestrates how all the page elements come together and connects the custom landing page to trigger marketing campaigns.
This post explores landing page builder benefits, pros and cons, and how SaaS companies leverage landing pages for their mid-market and small business users. We'll also discuss key features to look for in a landing page builder and provide an overview of the best landing page builders on the market.
Landing Page Builder Benefits
Landing page builders have redefined the way marketers create and optimize marketing campaigns. These powerful tools offer a range of benefits that can significantly simplify the design and development of a custom landing page.
Efficiency: With a landing page builder, you can quickly create professional landing pages without coding or design skills. This saves you time and resources, allowing you to focus on other crucial aspects of your marketing strategy.
Customization: Landing page builders provide a wide variety of landing page templates and design elements that you can customize to match your brand's look and feel. You can add your logo, choose color schemes, and select fonts that align with your overall brand.
Conversion-focused: Landing page builders are specifically designed to optimize conversions. They offer landing page features such as A/B testing, which allows you to experiment with different page elements and layouts to determine what drives the highest conversion rates. Many landing page builders also integrate with marketing automation tools, enabling you to streamline your lead-nurturing process.
Performance analytics: Landing page builders often come with built-in analytics tools that provide valuable insights into visitor behavior, conversion rates, and other key metrics. These insights can help you fine-tune an effective landing page and improve your marketing campaigns over time.
Why Small Businesses Use Landing Pages
Small businesses often have finite resources and budgets, making it essential to maximize their marketing efforts. Landing pages offer many advantages that make them particularly effective at converting potential customers: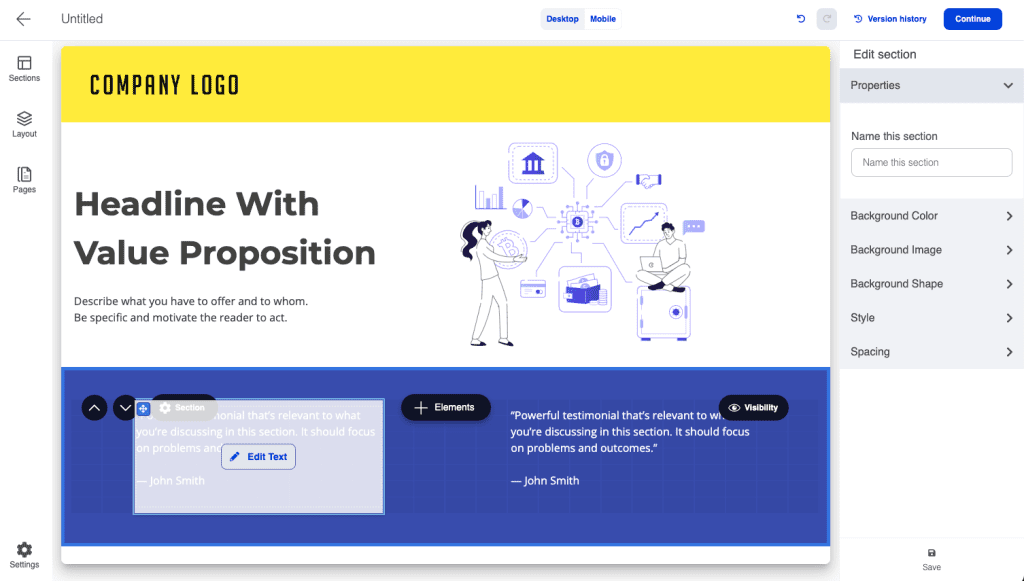 Fast and efficient at page creation: Landing pages allow small businesses to create highly focused and targeted messaging. They can tailor their content specifically to different customer segments, campaigns, or promotions, increasing the chances of conversion.
Built-in lead generation: Landing pages are excellent tools for capturing leads. Small businesses can build their email marketing lists and nurture leads into customers by offering valuable content or discounts in exchange for contact information.
Cost-effective: Landing pages are a cost-effective solution compared to developing and maintaining a full website. They require fewer resources to create and can be quickly updated or modified as needed.
As with any tool, landing page builders have their pros and cons. Let's take a closer look at the advantages and disadvantages.
Pros and Cons of Landing Page Builders
Pros
Cons
Ease of use
Landing page builders typically have intuitive interfaces that make creating and launching landing pages easy. The best landing page builder lets users start from a landing page template without touching any code.
Limited customization
While landing page builders offer a range of templates and design options, they may not provide the same level of flexibility as a fully custom-coded website.
Time and cost savings
Using a landing page builder can save time and resources that would otherwise be spent on hiring a web designer or developer. It also allows the team to validate ideas for a marketing campaign faster.
Platform dependency
Some landing page builders lock you into their proprietary system, so you're reliant on the platform's features and updates. If the platform experiences downtime or discontinues its services, it can allow users to seek out another marketing tool.
Consistency
Landing page builders enable you to maintain a consistent brand experience across all your landing pages, ensuring a cohesive and professional look. With templates, users can re-use their best-performing landing page designs.
Learning curve
Most landing page builders are user-friendly, but newer users may still have a learning curve. However, the benefits usually outweigh the initial investment in learning how to use the tool effectively.
Why SaaS Companies Use Landing Page Builders
Software as a Service (SaaS) companies also rely on landing page builders as part of their products. Here's why:
1. Equip users with lead generation tools
Landing pages empower users to generate leads and grow their customer base. Users can capture potential customers and nurture them through the sales funnel by providing built-in demand generation features, such as lead capture forms and compelling call-to-action buttons.
Instead of spending their Google Ad budget on sending paid traffic to their homepages, they can point them to dynamic landing pages that convert website visitors.
2. Complements marketing automation features
Landing pages seamlessly integrate with marketing automation tools, allowing SaaS companies to automate their lead nurturing workflows. By connecting landing pages with email marketing campaigns, drip sequences, and sales funnels, your customers can deliver targeted content to prospects and drive conversions.
3. Increases customer satisfaction
Landing pages provide an opportunity for SaaS companies to beef up their product value. By enabling users to create custom landing pages at scale, they can create effective marketing campaigns. This customer experience contributes to higher satisfaction and ultimately improves Net Promoter Score (NPS).
4. Increases product usage and adoption
Landing pages can be utilized as a means to showcase product features, benefits, and use cases. By creating dedicated landing pages for different aspects of the software, SaaS companies effectively prove their value proposition to their target audience. This, in turn, increases product adoption and fuels customer engagement.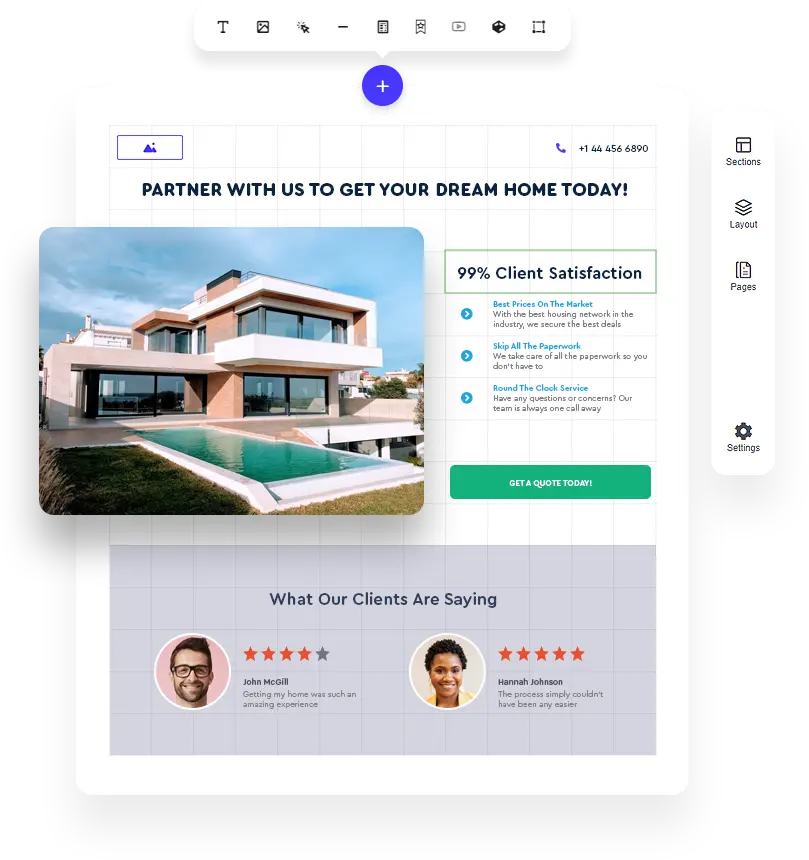 5. Lowers customer churn and cancellations
Well-designed landing pages can play a vital role in preventing customer churn and cancellations. By creating landing pages that address common pain points and objections, B2B accounts can convert more prospects and see the ROI from their software expense.
SaaS companies can proactively step into the situation and mitigate potential churn risks. This proactive approach helps build trust and loyalty, leading to improved customer retention rates.
6. Encourages product-led growth
Landing pages can be instrumental in driving product-led growth strategies. You can drive product upsells and premium content packages by leveraging the top page builder features to discover your product's value. This approach fosters a self-serve model and enables users to discover your app's benefits, leading to continued user growth and activation. Perhaps there's a premium feature that you can limit to just your premium plan members.
Key Features of a Landing Page Builder
When choosing a landing page builder, it's essential to consider the following features:
Easy-to-Use Interface: Look for a landing page builder with an intuitive and user-friendly interface. This will ensure that you can quickly create, edit, and publish landing pages without technical expertise.
Template Library: A diverse collection of professionally designed templates can save you time and provide inspiration for your landing page designs. Make sure the landing page builder offers a wide range of customizable landing page designs to match your branding.
Customization Options: The ability to customize your landing pages is crucial for maintaining consistency. Look for a builder that allows you to easily modify colors, fonts, images, and other design elements to align with your brand identity.
Integration Capabilities: Consider whether the landing page builder integrates with other tools and platforms you use, such as email marketing software, CRM systems, or marketing automation platforms. Seamless integration can streamline your marketing workflow and enhance lead management.
Analytics and Reporting: A landing page builder with built-in reporting and analytics tools and reports about your landing pages. Look for metrics such as conversion rates, conversions, and engagement data to track and optimize your campaigns effectively.
Tracking Scripts: Top-rated landing page builders let small business users add tracking scripts (also called tracking pixels) to capitalize on a high-converting landing page. Examples of these include Google Analytics, Google Optimize, Facebook Ads, and Google Ads. This also includes ad remarketing services like Rollworks, Bombora, and 6sense to target a potential customer across various publishers and social media platforms.
Best Landing Page Builders in 2023
1) Convrrt
Convrrt is a powerful landing page builder known for its ease of use and conversion-focused features. It offers a fully customizable solution for software companies to help them create effective landing pages for users. Its noteworthy customers include Keap, Brevo, Freshworks, and SharpSpring. With its dynamic landing page builder, these SaaS companies have saved millions on development and shipped effective marketing tools to users faster.
Key Features
Grid-based drag-and-drop builder for easy creation
Custom domain support for a fully white-label experience
Pop-up builder can be included for even more lead capture capabilities
Native look and feel so users connect forms with ease
Countdown timers and AI content creation on the fly
Best For
Convrrt is best for SaaS companies in the marketing, CRM, or virtual events industries. If your business model depends on users growing their contact lists, building an email audience, or simply selling more, Convrrt is perfect for you.
Price
Convrrt provides custom pricing upon request. Pricing starts at $500 monthly with an optional account onboarding service. The company offers a free sandbox for qualified leads.
2) Unbounce
Unbounce is one of the web's first landing page builders known for its versatility and landing page optimization features. It offers a wide array of customizable templates and a user-friendly interface for creating high-converting landing pages.
Key Features
Drag-and-drop builder with a responsive design editor
A/B testing and conversion tracking for data-driven optimization
Integration with popular marketing tools like Google Adwords
Dynamic text replacement for personalized messaging
Advanced targeting and segmentation options
Best For
Unbounce is best for in-house marketing teams and agencies savvy with HTML and digital marketing tools.
Price
Unbounce offers several pricing plans. The Essential plan starts at $79 per month, the Premium plan is available for $159 per month, and the Enterprise plan offers custom pricing based on specific business needs. A 14-day free trial is also available.
3) HubSpot
HubSpot has evolved as a full-featured marketing platform that includes a landing page builder as part of its suite of marketing tools. It provides seamless integration of landing pages with other marketing features, making it a popular choice for businesses using HubSpot.
Key Features
Drag-and-drop builder with a library of customizable templates
Mature page analytics tool that fits with the rest of the CRM
Integration with HubSpot CRM and marketing automation features
Smart content features for dynamic landing page messaging
SEO optimization tools for improving search engine visibility
Best For
HubSpot is best for large marketing teams, perhaps at the mid-market or enterprise size.
Price
HubSpot's pricing starts at $890/mo with an annual commitment ($10,680), not including overages for contacts or other product upgrades.
4) Versoly
Versoly is a developer-friendly landing page builder designed for building full websites. It aims to provide simple page creation, but its numerous component options can be overwhelming. Out of the box, though, it provides a decent way to build pages without necessarily needing to know code.
Key Features
Drag-and-drop editor for quick customization
Extensive conversion tracking script support
Integration with popular marketing tools like Mailchimp
SEO-friendly features for better search engine ranking
Best For
Versoly is best for teams with a full-stack developer who wants to work faster and streamline their website building.
Price
Versoly offers a free plan with limited features and branding. The Pro plan starts at $19 per month, and the Advanced plan is $49 per month. Additional users and types of users cost extra.
5) Duda
Duda is a website builder hosted on Amazon Web Services. It offers a range of templates and options to create visually appealing sites. It also features an image library that helps with the creation of landing pages.
Key Features
Drag-and-drop builder with responsive design capabilities
Ability to export the HTML, CSS, and JavaScript for a site
Membership site functionality, but only on higher plans
Multi-language support for global campaigns
Client management features like billing and reports
Best For
Duda is best for small agencies with approximately 10 other users per account.
Price
Duda offers several pricing plans. The Basic plan starts at $14 per month, the Team plan is available for $22 per month, and the Agency plan starts at $44 per month. However, each price plan only allows 1-4 sites, and additional sites, users, and features cost extra.
These are just some of the top landing page builders available. Each one offers unique features and distinct benefits from one another. It's important to consider your product's needs and choose the one that best supports its growth.
Why SaaS Product Teams Use Landing Page Builders
⚡️ Efficiency and Speed
Landing page builders provide product teams with a ready-built platform for creating and publishing landing pages. With drag-and-drop functionality and pre-designed templates, product teams can quickly get landing page functionality out to users without depending on an army of developers or designers.
✨ Deep Product Integration
Landing page builders are the perfect reason to build a deep integration with the product. This integration enables product teams to connect their landing pages with their marketing stack, ensuring a smooth flow of data and a delightful user experience.
🔢 Data and Analytics
Landing page builders offer a wide array of data analytics about which customer campaigns are most successful. These insights into the performance of their landing pages can be used to create a conversion-optimized landing page design. By using landing pages to monitor user activity, you can unearth new use cases for your core product.
🏎️ Achieve Speed to Market
A landing page builder empowers product teams to design a great user experience without the burden of developing it. The best landing page builder lets you go live as soon as a month (or less). Convrrt has a smart builder that balances the feature and form for an optimal user experience.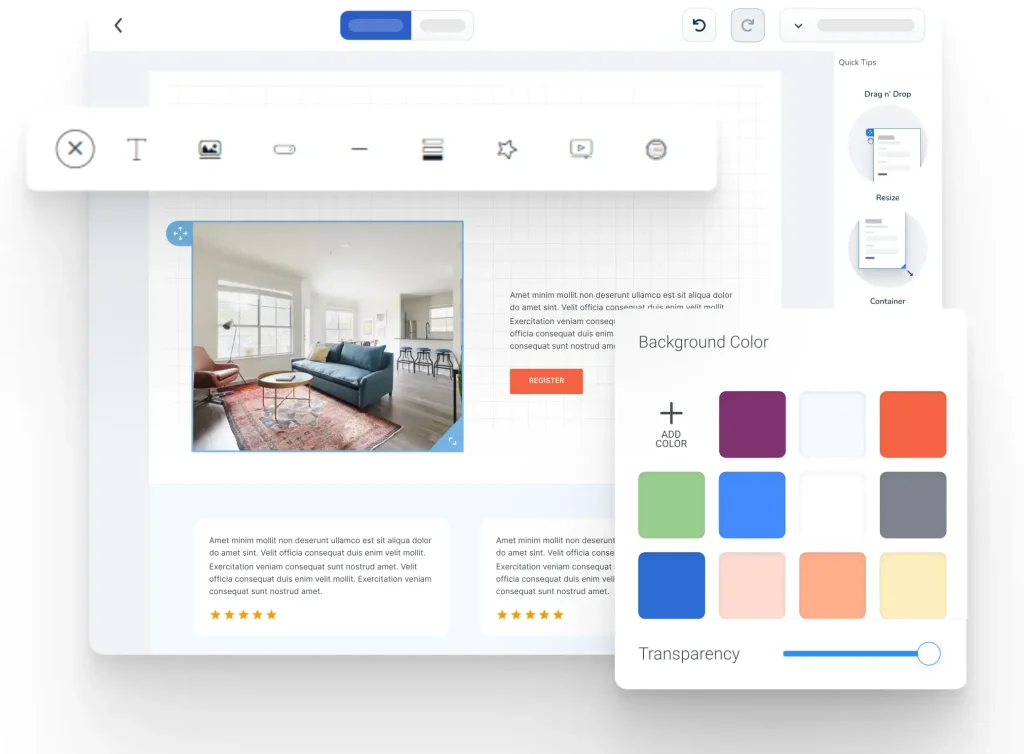 Final Thoughts on Landing Page Builders
Landing page builders have become indispensable tools for SaaS companies, and product teams add more marketing firepower to their software.
With their intuitive interfaces, enterprise-grade features, and seamless integrations, these page builders empower businesses to create compelling landing pages that drive conversions and maximize their online presence.
Looking ahead, landing page builders are only going to get better:
Enhanced personalization: As the demand for website personalization grows, landing page builders will continue to offer advanced targeting and segmentation options using first-party data, allowing businesses to deliver tailored content that resonates on a deeper level.
AI-powered optimization: Artificial intelligence and machine learning will play an increasingly prominent role in shifting page builders to smart builders. These technologies will enable built-in content optimization and data-driven insights to improve conversion rates to streamline the publishing process.
Omnichannel Integration: Landing page builders will evolve to seamlessly integrate with multiple marketing channels (phone, chat, social media, email, web), enabling fully integrated marketing campaigns across every touchpoint.
Mobile-first approach: With the continued growth of mobile usage, landing page builders will prioritize mobile responsiveness and provide intuitive content experiences for those accessing pages on mobile devices. Mobile optimization will help landing pages bridge the gaps between desktops, smartphones, and tablets.
As landing page builders adapt to the market's demands, product teams must stay informed about the latest trends and innovations.
By harnessing these tools and embracing innovation, SaaS companies can lean on experts to manage landing page tools that empower their audience to create and publish high-converting landing pages.