For every SaaS company with marketing, events, and e-commerce features, user-generated content is core to their product strategy.
Pushing users to purchase third-party page publishing tools costs your SaaS brand missed opportunities and customer churn.
So, what's the alternative? An embedded page builder that bridges the gap between your core product with modern content publishing capabilities.
Not all page builders are the same. Some need you to staff it with a few software engineers to develop and maintain. Others are too limited and restrictive.
This guide covers the essential features you need in page builder. Plus, we have a roundup of the key features and benefits they offer software companies like yours.
Top Page Builder Platform Features
Landing pages are integral to any marketing campaign. However, building them from scratch can be time-consuming and requires coding skills. That's why many businesses turn to page builder platforms that provide a host of features to simplify the process.
Let's explore the top features that every page builder platform should provide users.
1. Drag-and-Drop Interface
A good page builder should have a user-friendly interface that allows users to create pages without writing any code. A drag-and-drop interface makes it easy to customize various elements, such as text, images, and forms. This feature is especially useful for non-technical users who want to create pages quickly and easily.
2. Prebuilt Templates
Templates are pre-designed pages that users can customize to fit their needs. A page builder should offer a range of templates for different industries and use cases. These templates should be customizable, allowing users to change the colors, fonts, and images to match their branding. This feature saves time and effort and helps users create professional-looking pages that convert well.
3. Customizable Templates
Templates are essential for quickly creating pages efficiently, but it's essential that they're customizable as well. The best page builder platforms should offer a wide range of customizable templates that users can tweak to suit their needs. This ensures that users can create unique pages that stand out from the competition.
4. Responsive Design Support
In today's world, most users access websites and pages from their mobile devices. A good page builder should provide responsive design support, ensuring that pages look great on desktop and mobile devices. This feature involves solving technical hurdles for users so that they can convert traffic from mobile and desktop devices.
5. Cloud Hosting & Security
A page builder platform should provide secure cloud hosting and protect users from security threats. The platform should use reliable cloud services such as Cloudflare and Google Cloud Platform and provide caching to ensure that pages load quickly. This feature is critical for businesses that want to provide a smooth user experience and protect their customers' data.
6. Branding Preferences
A good page builder platform should enable users to save their account-level settings for typography, colors, and brand styles. This feature helps users maintain a consistent brand identity across all their pages. Users can create a template representing their brand, save the settings, and apply them to other pages with just a few clicks.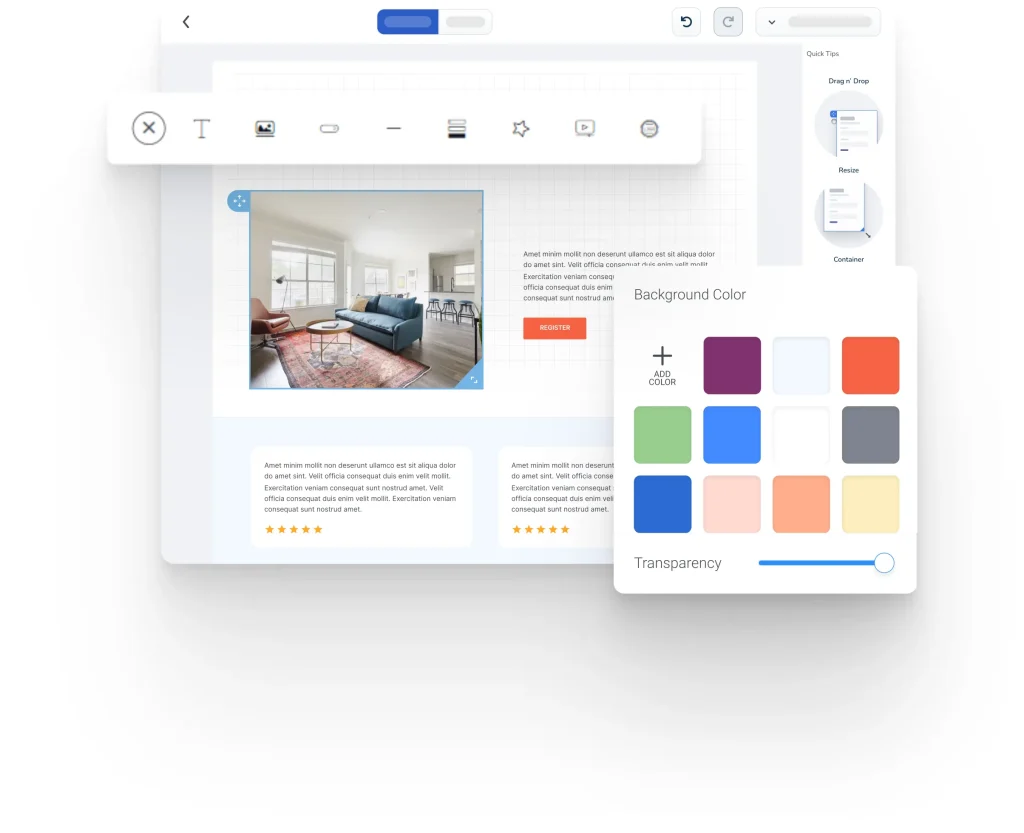 7. SEO Settings
SEO is essential for getting traffic to pages from search engines. A page builder platform should offer SEO settings that enable users to optimize their pages for search engines. This feature should allow users to permit Google to index and crawl the content on the page, improving its visibility in search results for public pages.
8. Open Graph Data Support
Social media is an essential marketing channel, and pages must be shareable on social media platforms. A good page builder should support Open Graph data, which enables pages to be shared attractively on social media. This feature helps businesses increase their social media reach and attract more page traffic.
9. Image & Content Hosting
A page builder should provide image and content hosting, allowing users to upload and serve up images and videos in a scalable and efficient way. This feature uses a CDN to ensure that images and videos load quickly and efficiently, providing a smooth user experience.
10. Secure Script Handling
A page builder platform should allow users to embed safe, legitimate Javascript code without exposing them to security risks. This feature ensures that users can safely use third-party services on their pages, such as Google Analytics, marketing automation tools, and email marketing tools.
11. Media Compression
Images and videos can slow down pages, leading to a poor user experience. A page builder should provide media compression, optimizing images for fast rendering without asking users to resize them. This feature helps pages load quickly, providing a smooth user experience.
12. Feature Flagging
A page builder should provide different feature options depending on the user's plan, pricing, or product SKU. This feature allows users to access premium features in accordance with their price plan or purchased add-ons.
13. Enterprise Support
The best page builder platforms should offer hands-on live support before and after launching the new product feature. It is essential that a page platform be accessible and receptive to your product suggestions and guide product managers and engineers whenever needed. This ensures that users can quickly get the help they need to create successful pages.
14. Conversion Analytics
Analytics are essential for tracking the performance of a page. A good page builder platform should have built-in analytics that allows users to track key metrics such as page views, conversions, and conversion rates. These analytics should be easy to access and understand, enabling users to make informed decisions about optimizing their pages.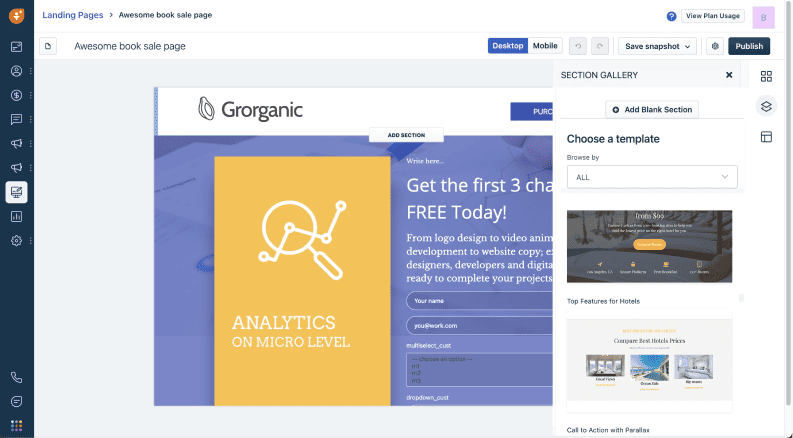 Choosing The Best Page Builder
When it comes to designing a page that converts, using the right platform can make all the difference. With a drag-and-drop interface, users can design and customize their pages quickly and easily. Templates are also a great feature to look for, as they provide a starting point for users to build on, saving time and effort.
Finally, choosing a page builder platform that is easy to use and offers excellent customer support is important. Many platforms offer tutorials and training resources to help users get started quickly; some even offer 24/7 support to ensure users can get help when needed.
Adding a page builder to your app? Book a live demo to see what's possible with Convrrt's page builder.
Page Builder FAQs
Can I use my domain name with a page builder platform?
Yes, with only a couple of quick changes to your domain's DNS, you can host content on a subdomain. If you want, you can also use your existing domain, but the best practice is to keep user-generated content separated from official application domains.
How long does creating a page with a page builder platform take?
With the page builder platform by Convrrt, users can create professional landing pages and begin collecting leads within a few minutes. Users can save their work, return later, and, when they're ready, publish their landing page for others.  
How do we connect our platform with Convrrt?
Convrrt is a white-labeled page builder that can direct form submissions to your preferred endpoint via API or Webhooks. From there, form submissions are managed within your platform. To end users, there's zero technical setup — all this happens behind the scenes seamlessly.