Optimizing your paid search landing pages is critical so you don't waste your ad budget or drive up customer acquisition costs. Once you've optimized your ad sets and bids, what's next?
Ads drive traffic, but the landing page convinces visitors to act.
However, not all landing pages are created equal. Some may confuse and frustrate visitors, leading to high bounce rates and wasted ad spending.
That's why understanding best practices for pay per click (PPC) landing pages is essential. We'll explore helpful strategies for crafting landing pages that drive conversions specifically for PPC campaigns.
The Problem With Most Paid Media Campaigns
Let's take a step back for a moment. The problem with most paid ad campaigns is that marketers spend more energy fine-tuning their keywords, ad groups, and bids in Google Ads and less on the actual asset that converts people.
Conversion rate optimization is more than picking the right button color or headline — it's the whole thing. But from the marketers I speak to, this problem is less about the willingness to solve but the ability.
Most companies have a content management system needing more features and functionality of a modern PPC landing page. They're built for fun and creative articles like this one. ;)
The first problem for a marketer to tackle is ensuring you have a decent landing page builder that can eliminate the technical obstacles and grueling effort to create unique PPC landers. If you use Keap, Sendinblue, or Freshworks, you already have a landing page creator built-in without any extra tools.
Let's dive into the top landing page best practices for increasing conversions from your paid media campaigns.
Landing Page Best Practices for PPC
1. Use clear and concise messaging
One of the most important SEO best practices to remember when optimizing your PPC landing pages is to ensure that your messaging is clear and concise. This tip means that your copy should be straightforward, easy to read, and fully aligned with the intent of your audience.
When crafting your messaging, focus on the most beneficial aspects of your offer or product to ensure your visitors understand. To achieve clarity in your messaging, consider using specific headlines, simple subheadings, and the tactful use of bullet points.
These elements can break up large blocks of text and make your content more digestible. Additionally, consider using powerful imagery and interactive design elements to convey your message in a visually engaging way.
When you want to optimize your landing page for paid search, it's important to remember that visitors often seek answers or solutions to a particular need or problem. Address these concerns directly and concisely.
Avoid using overly technical jargon or buzzwords that may alienate your target audience.
By clearly and concisely communicating the value of your offer or product, you will increase conversions, drive more leads, and ultimately boost your bottom line.
2. Provide compelling content
Conversion rates are one of the most critical metrics to monitor. Your landing page's success often depends on whether users are intrigued enough by your content to stay, trust your expertise, and ultimately become customers.
Therefore, providing relevant and compelling content that persuades potential customers is essential. Optimizing your landing page with helpful information and clear messaging will help you achieve better landing page conversion rates.
Use headlines and subheadings to convey key messages and guide visitors through a methodical buying decision. Consistency from your PPC ad copy to the page's headline is not worth skipping. Ensure that each section or piece of content performs a "job" to motivate the reader to take a desired action.
Visuals help to create a better landing page experience. Use high-quality image sources, comparison tables, and even videos to appeal to customers and keep them engaged.
Let your paid media shine by using clear value propositions, direct headlines, and aesthetics to guide users through your landing page and ultimately convert them into customers.
3. Deploy a strong call-to-action
Most marketers know a landing page must have a bold and direct call to action.
Don't force a potential customer to search the page for a button or link to take action. Highlight it prominently. If you have an inbound sales team, make the phone number highly visible and clickable to initiate the phone call. (If a visitor has to copy and paste, you're silently killing many conversions from your ad campaign.)
Secondly, make sure the language you use isn't vague or wishy-washy. Whatever you do, don't ask visitors to "Submit."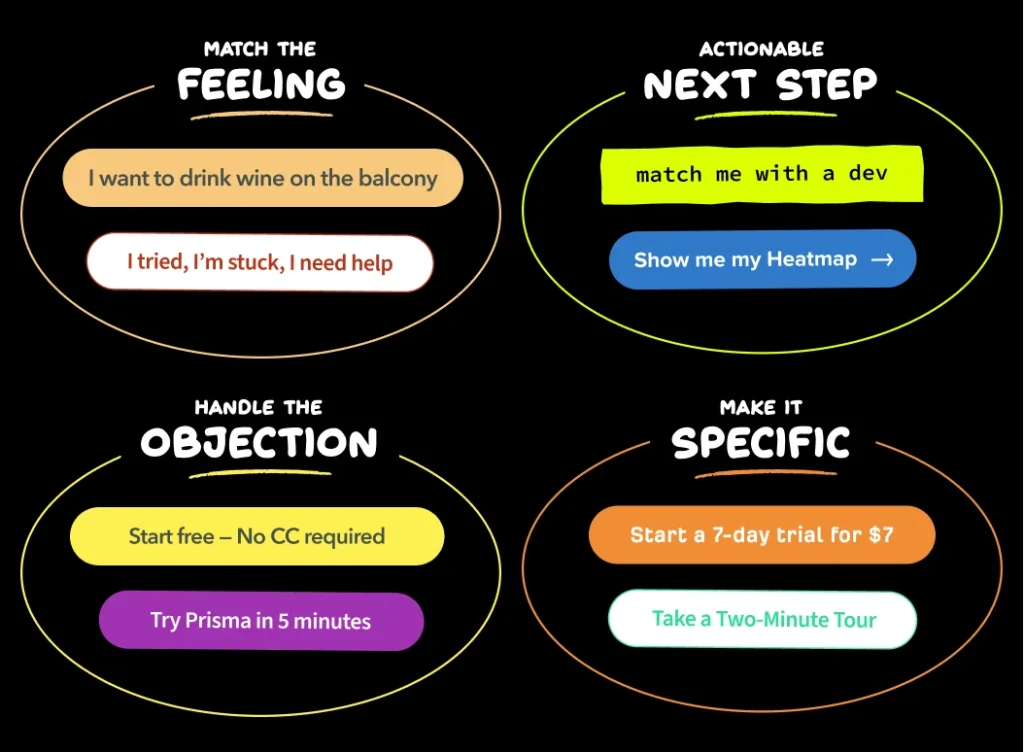 Tell people exactly what they're going to get when they take action. Use action-oriented language like "Download now!" or "Sign up today!"
Another essential element of a solid CTA button is urgency.
People are more likely to take action when they feel like they might miss out if they don't act quickly. Phrases like "Limited time offer" or "Act now before it's too late!" It's also a good idea to A/B test different versions of your call-to-action to see what works best. This element combines well with social proof like "17 spots remain."
Outside of the CTA button's language, reduce a buyer's risk. "No credit card required" or "30-day money back guarantee" would be wise to include beneath your button.
This simple tip alone will improve the performance of your paid search landing pages. You'll be well on your way to driving more conversions and achieving your advertising goals.
4. Maintain a user-friendly design
People's standards for what they expect in a landing page have elevated. People won't wait for a slow page to load or tolerate pages that look unprofessional.
The cost per click continues to grow, so you need a design format that builds trust and is intuitive.
Instead of building a page entirely from scratch, use a proven template with modules and content that guides visitors down a path that leads to a sale. They don't have to have fancy animations or completely "original" concepts — the design's "job" is to ensure visitors can easily comprehend the content.
A simple design is often more effective at communicating your message and driving conversions. Your landing page should have a clear and concise layout that guides the user's attention to your call to action.
With more than half of all internet traffic coming from mobile devices, ensuring your landing pages are mobile-friendly is essential. This necessity means using responsive design and optimizing your page load times.
5. Don't forget about mobile optimization
Unlike desktop-based layouts, designing a landing page for mobile devices presents unique challenges. Ensuring your landing page's messaging and design look professional on smaller screens is a must-have.
As a paid traffic landing page best practice, automatically adjust the layout of a page based on the dimensions of the device. Unfortunately, it's a technical hurdle for most page builders and marketers alike. Some concessions have to be made for content, too.
A mobile-first landing page helps your paid campaign in three ways:
Focuses on the key message
Loads pages faster with lazy-loading
Directs the user down a linear page consumption path
These benefits provide a better user experience, regardless of the device. Lazy-loading is a technical method of deferring image/video loading until a user scrolls down to it.
Mobile users are often on a slower connection. They have limited patience, meaning any delay can cause them to abandon the page. Optimizing image sources and reducing server requests are two effective ways to increase page speed. An enterprise landing page platform like Convrrt ensures your website hosting is never a cause of slow loading times.
Some landing page tools out there make mobile responsiveness an afterthought. Convrrt, however, creates desktop and mobile-responsive landing pages easily — without technical skills. If something looks amiss, click the Magic Wand button to re-align any components.
6. Learn through continuous testing and optimization
The PPC landing page mantra is simple: test, optimize, repeat. The key to continuous PPC success in paid search lies in understanding the value of ongoing optimization.
But what does this mean in 2023?
The reality is that most brands need to generate more traffic to perform multivariate testing. That type of testing is ideal for companies with hundreds of thousands of pageviews a month.
A more straightforward approach is often more effective. Creating multiple PPC page versions with significant changes is a better diagnostic than more subtle changes like CTA buttons and keywords.
Continuous testing is one of the most crucial factors in optimized PPC landing pages. Compare results month over month and quarter over quarter. Consider a seed round of paid search ad budget for initial landing page experimentation — promote the strongest landing page and kill the others.
With a data-driven approach and implementing an ongoing landing page optimization process, you can ensure that your landing pages are always working at their best, driving more engagement and, ultimately, more sales.
The Better Way to Create PPC Landing Pages
The old way is providing clients or your website manage a page with copy and design requests. Odds are, they'll need more feedback and direction than you anticipated.
Instead of spending hours creating landing pages with your typical content platform, use white-label landing page software available with your CRM or marketing automation software. The benefit of this is users won't need third-party integrations via Zapier or technical API integrations.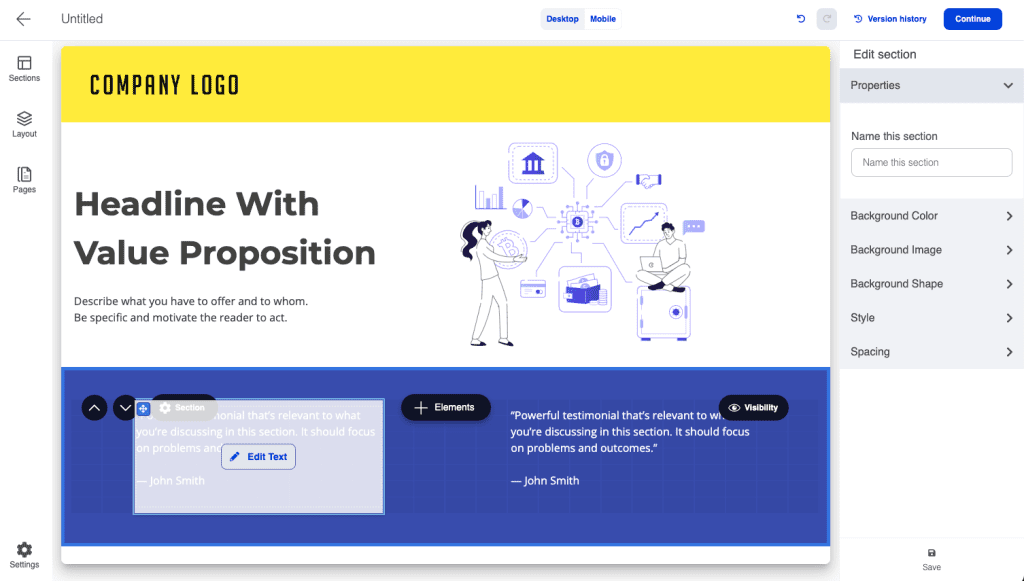 Optimizing paid search landing pages is essential to running successful PPC campaigns. These best practices help you improve conversion rates and boost your ROI.
Remember that PPC landing page best practices are not set in stone and may vary depending on your industry, target audience, and business goals. Stay creative and willing to experiment with different approaches until you find what works best for you.
With the right paid ads strategy + execution, you can elevate your paid search efforts and achieve long-lasting success for your brand.
FAQs about Optimizing PPC Landing Pages
Which is the best practice for optimizing a landing page?
The best practice for optimizing a landing page is to adopt a proven template and formula for content. An enterprise landing page platform like Convrrt helps marketers create numerous pages using your existing CRM or marketing software.
This best practice includes continuously testing different landing page variations, analyzing results, and promoting the strongest landing page while killing off the weakest ones.
How can I improve my paid search performance?
Use a proven template with modules and content that guides visitors down a logical path that leads to a sale. Ensure that your page layout is clear and concise, as well as mobile-friendly. Don't send valuable traffic to an unrelated landing page.
Additionally, consider using a white-label landing page builder like Convrrt that has integrations with your CRM or marketing automation software. Finally, stay creative and experiment with different approaches until you find what works best for you.
Should landing pages be SEO optimized?
Use a proven template with modules and content that guides visitors down a logical path that leads to a sale. Ensure that your page layout is clear and concise, as well as mobile-friendly. Don't send valuable traffic to an unrelated landing page.
Additionally, consider using a white-label landing page builder like Convrrt that has integrations with your CRM or marketing automation software. Finally, stay creative and experiment with different approaches until you find what works best for you.