As you scale your SaaS business, you'll need to find ways to multiply the efforts of your product and engineering teams. In this economic climate, proving value to customers underpins customer retention and influences valuations. Speed to market matters in 2023.
Achieving a product-market fit is vital to your SaaS company's scaling. However, identifying the areas to prioritize for scaling can take time and effort. Even after a fit, there are engineering hurdles to keep your momentum.
We'll explore strategies to help you quickly grow your revenue and customer satisfaction. But first, let's define why scaling your SaaS business is necessary for every product leader.
Fundamentals for Scaling SaaS Products
What does it mean to Scale SaaS?
Scaling SaaS refers to the practices and strategies to accelerate a company's long-term potential. For founders, it involves refining your marketing strategy, improving product adoption, and increasing customer satisfaction to maximize lifetime value.
Driving product growth requires patience, discipline, and a focus on repeatable success. This discipline is particularly true in customer acquisition, where you must attract the right target audience and ensure your product satisfies their needs.
The customer lifecycle is not linear, and the path to profitability can be winding. You may need to get creative with ways to multiply your team's talents to achieve success.
With a deep understanding of your target audience and their pain points, you can understand the tools and services they pay for alongside your app.
For most marketing and CRM software companies, the onus rests on the user's shoulders for creating web forms, landing pages, and marketing campaigns. This oversight is a massive opportunity for today's SaaS startups to capitalize on industry laggards.
Sometimes, it helps to observe what didn't work in a SaaS growth strategy.
Causes of SaaS Business Decline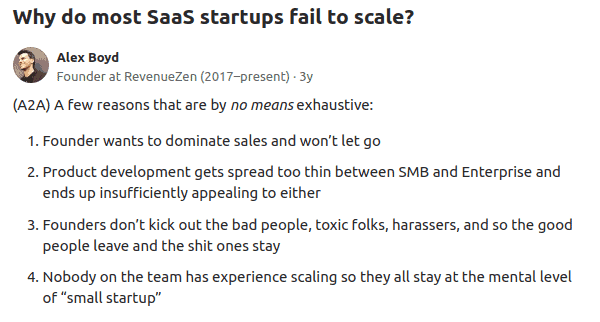 While most SaaS providers start with promising ideas, not all of them make it to the finish line. Alex Boyd from RevenueZen cited a few top reasons why startups fail. He mentioned that founders struggle to let go of sales team initiatives and product development resources are spread too thin between segments in their customer base.
Ineffective sales and marketing efforts
"If you build it, they will come." While that's an oft-repeated phrase, countless CEOs and co-founders have yet to experience it.
The SaaS industry is driven by breakneck innovation. It takes much more than awareness of your SaaS platform to catch the eye of your target audience.
Knowing this, business leaders will invest heavily in product development. The difference between a Figma mockup and an MVP could be months and millions of your SaaS startup dollars.
The only problem? Those costs can be exorbitant – even terminal in nature.
Depending on your funding, you may be unable to recoup that money at the same pace you're spending to acquire and serve potential customers. Front-loading these huge expenses leads to cash flow implications that could undermine a SaaS business from the very beginning.
Most executives are afraid to admit that they failed to test their messaging and user experience with actual buyers. Skipping this step results in wasted sales and marketing dollars.
Don't let that happen to you.
Long engineering and product development cycles
Another issue that could halt your SaaS scaling strategy in its tracks? Allowing your engineering and product optimization cycles to continue indefinitely.
Delivering the right blend of features and capabilities to their solutions is paramount to success. Yet, speed to market can't be ignored.
Lengthy product development cycles impede your ability to capture customer feedback. It also impairs your SaaS products, as demand will mature faster than your ability to reach product market fit.
The last thing you want is to introduce features that rivals have had for years. Time is not on your side.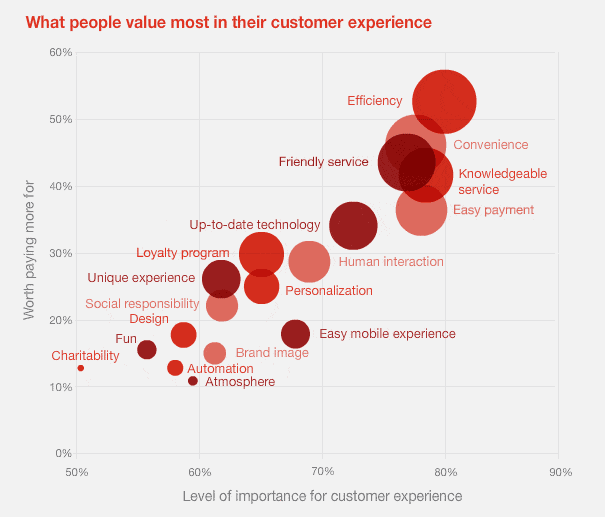 Lack of customer understanding (needs vs. wants)
According to PwC, only 38% of customers interact with companies that fully understand their needs. Another area where SaaS leaders often need to improve is over-customizing their solutions to be as feature-rich as possible without considering the real-world customer experience.
It's easy to pour money and attention into product development and growth hacking, driven only by a misguided and often incomplete perception of what your clients genuinely need (and want).
Bells and whistles work against a SaaS product when they directly distract from its purpose. This simple misunderstanding can have detrimental consequences if not caught and corrected early in the scaling phase.
Your customer retention rate is the rate at which your clients cancel their monthly recurring subscriptions. This number skyrockets if your product fails to deliver on customer expectations.
Do you pay for services you don't get value from? Why would your users?
"In my opinion, the single most important indicator behind the potential success of a business is how well you know your customer(s). It is imperative to understand their biggest problems so you can experiment and deliver the right solutions to them. Just as crucial to have them close by as you work through the inevitable periods of product iteration — it's pretty much guaranteed that you won't get a product right immediately and customers are a crucial piece to help you get there."

u/el-pantaloons on Reddit (GawkBox founder with $4.4M in funding)
Likewise, your perceived valuation and MRR take a hit if your product misses the mark. And suppose your product is hard to use. In that case, you'll need to invest in more intricate customer service resources, which tend to work against your SaaS scaling strategies.
Okay, enough doom and gloom. The spirit here is to learn from others who have been in your shoes trying to achieve sustainable growth. Let's look at several best practices to scale a SaaS business.
8 Founder-Approved Ways to Scale Your SaaS Business
1) Get ultra-clear about customer needs
Companies prioritizing customer support and experience can outperform their peers by up to 80%. Of course, this requires more than simply meeting with a few account representatives a few times yearly.
Instead, it requires your marketing and sales teams to invest deeply in customer research and lead generation through means that might include:
New customer questionnaires
Analyzing the market's content marketing
Conducting competitive intelligence
Sending customer surveys
Developing Ideal Client Personas (ICPs)
Segmenting potential customer messages
The more closely your team knows what makes your potential customers tick, the more confidently they can direct them to the best product for them. Market fit is the key to building a profitable customer lifecycle, increasing lifetime value, and flattening customer churn.
2) Say 'no' to unprofitable customer segments
It's human nature to want your SaaS business to appeal to everyone. If this were the case, there wouldn't be 10,000+ martech apps for sales and marketing teams.
However, some customer segments will be a poor market fit for your SaaS product. These might be clients whose needs drag down your business model or whose pricing requirements you'll never be able to accommodate.
Be thoughtful about making sure your brand awareness campaigns reach the ideal client. Focus on the ones that validate your product story and are receptive to your customer marketing efforts.
Hint: They're easy(ier) to work with and prove your SaaS platform's value.
3) Immediately ramp up customer referrals
As a SaaS startup, customer referrals matter more than you might realize. Studies show that a client referred to your business can be up to 18% more loyal, with a 16% higher lifetime value and a 13% higher spending rate.
The best part? Referrals from your target audience are among the most cost-effective customer acquisition tactics. Something as simple as a personalized email intro can snowball into a monthly recurring subscription, so get your sales team started as soon as possible.
You don't have to have a structured affiliate program. A simple outreach email checking in with existing clients can work wonders.
Offer an attractive incentive such as free service upgrades, gift cards, or even a flat $500 reward for any referred deals. If you know your SaaS metrics down pat, you know how much you can invest here.
4) Don't reinvent the wheel in software development
Freeing up your engineering resources is the ultimate growth hack to scale SaaS. Why? It lets product managers focus on the most critical, valuable priorities.
While there may be some components that you have to complete from scratch, plenty of online automation tools are designed to help. For example, say you have a nifty CRM app and offer lead-gen tools for users. You could spend 18+ months planning sprints for engineering, design, QA, support, hosting, and more.
Or, you can use a technical partnership and launch in a matter of weeks. This approach takes the guesswork out of your product strategy and dramatically shortens your time to market.
5) Obsess about customer success
Successful SaaS leaders keep clients top of mind every single day. While they're invested in the technical side of their business, they know that the human side counts.
People don't buy a SaaS platform for its innovation. They purchase apps to solve specific gaps in their lives (B2C) or at work (B2B). The most innovative product in the world will ultimately fail to launch. The same goes for the most intricate and well-aimed sales process or the slickest automation platform. Cybertruck, anyone?
Jason Lemkin advises that founders must meet with customers and partners daily.
Getting Out of the Office and Getting Early Customers and Partners.
Some may find you on their own, but to get your customer base going, you're going to have to hustle. Try to meet with any possible customer you can.

Lavish Attention On Any Single Customer and Every Single Lead You Get.
Don't dismiss any customers. Each one represents the exact needs and wants of 10-100 more, irrespective of your market size. Make each early customer a success — and you will make another 100 customers a success.

Jason Lemkin on Quora
Don't just prioritize customer success. Actively chase it to increase SaaS product adoption. Go to every conference, event, or meet-up that you can. Talk about it on LinkedIn, and share the updates across your channels. Get your product in front of as many eyes as possible and lavish brand awareness campaigns on potential customers.
Champion your customer and how they achieve their outcome. Your future customers will focus on your passion for customer success rather than your value propositions alone (and let's be honest, you do have competitors).
Remember that every single customer matters. Some accounts contribute more to your customer growth rate than others, but everyone has a voice.
Ready to boost your product adoption? Let's talk about how we can help.
6) Break out of typical marketing methods
As a product leader of a growing SaaS startup, you need to push the limits of marketing strategies. Product usage sits on the other side of product-led growth.
One approach is to invest in building brand awareness through content marketing. For example, hopping on a podcast your target customers respect is worthwhile. By understanding their pain points and preferences, you can tailor the product message to resonate with them and scale brand awareness.
Don't rely solely on a sales person to close deals. The product has to do its job too. Instead, explore unconventional marketing channels like gifting and 1:1 personal outreach, and even incentives for usage milestones.
Remember, the goal is to drive SaaS growth and minimize customer acquisition costs. When you're starting, marketing strategy success is about effectiveness.
After scaling your SaaS business, then you can optimize for efficiency.
7) Let go of what you're not good at
This one might be hard to admit, but it's important. Chances are, you're spinning your wheels and wasting time on tasks that aren't in your wheelhouse. Or, you're qualified to do them, but you need to focus on more mission-critical work that keeps your SaaS company afloat.
As a company co-founder, it's an instinct that you don't fully trust others. Open up to any new partners you bring on. Operating without agendas helps you have healthy, respectful conflict.
This lets you make faster decisions so you can scale your SaaS company. A quick example of this is Keap. The company used Twilio to provide text and voice messaging for its small business users in its software. As a result, they stayed focused and didn't pivot to become a VoIP provider, and they did so in a matter of months.
8) Add a product-led growth channel
Behind-the-scenes sales and marketing tactics are essential, but have you considered how much your SaaS product impacts customer acquisition and retention efforts?
Product Led Growth (PLG) is essentially the process of building a product that sells itself. According to Dave McClure's acclaimed Startup Metrics for Pirates, this means creating a platform that meets all five steps of the SaaS sales funnel, including:
Acquisition
Activation
Retention
Referral
Revenue
(As an acronym, you get "AARRR," hence the pirate reference.)
For software providers with a high volume of clients, you must guide their customer journey into your app. And being intentional with showing (or concealing) special features is rewarding the more they use it. While this tends to counter some B2B SaaS conventions, creating these customer success loops is crucial.
The goal isn't to follow a trend. Instead, it's to unlock a growth vehicle for your SaaS business. Sometimes, personalized, 1:1 engagement is needed to facilitate a monthly recurring subscription.
What is the conversion rate for SaaS? It's only around 3%, but you could change that.
Traditionally, salespeople would be tasked with approaching new clients and facilitating customer support. Today, SaaS companies that take the reins and embrace a product-driven growth model can stay ahead of the curve.
Additional Reading for SaaS Founders & Co-Founders
Many different resources are available to help interested business leaders approach the scaling stage in the right way.
A few of the books we recommend on the topic include:
In addition, there are also several podcasts on the topic, including "Scaling SaaS Operations" by Kristine Esparza and "Built to Scale: B2B SaaS Edition" by Mitch Fanning.
Scale up Your SaaS Business the Right Way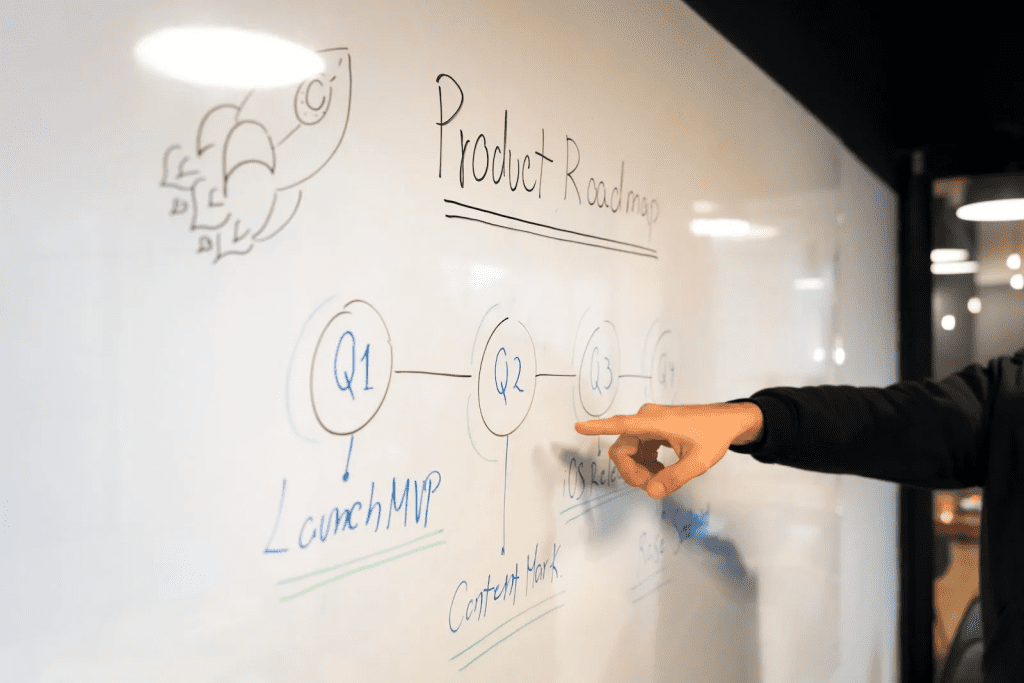 You're at a pivotal time in your SaaS journey. The scaling phase allows you to create an unshakable framework for growth, but you can't rush it.
These SaaS scaling strategies don't always hinge on new customers. Instead, serve existing customers and leverage partner programs for rapid growth.
Learning as much as possible about the topic and implementing some of these ideas can set your company up for sustained, long-term revenue growth. Along the way, you'll attract dedicated clients who need and want your product and can help your brand reach new heights.
Along the way, Convrrt is here to lighten your load.
Our customizable landing page platform helps product leaders and founders speed up their roadmap with modern marketing features that can be embedded.
Schedule a live demo and see firsthand how it accelerates your product growth.
… Here's a sneak peek inside: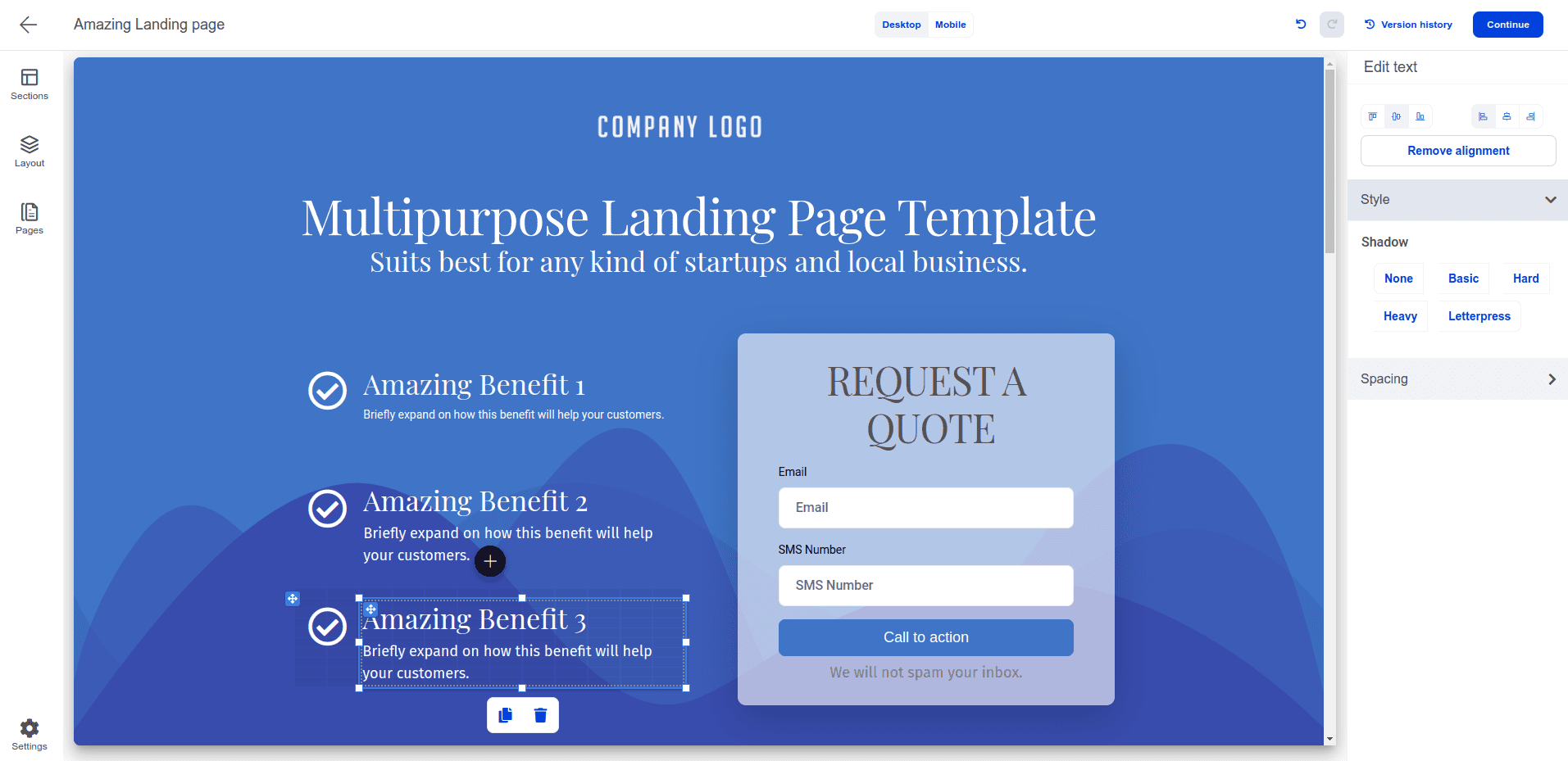 Questions & Answers: Scaling SaaS Products
What is the best way to scale a SaaS?
The best way to scale a SaaS business is to focus on acquiring new customers while retaining existing ones. Founders can invest in marketing and sales efforts, improve the customer experience, and iterate on the product at shorter intervals to add new features.
The business can quickly and cost-effectively acquire new customers by creating a product that customers love and actively recommending to their friends and colleagues. Another essential aspect of scaling a SaaS business is building a solid team and company culture, as this attracts top talent and drives innovation.
How do I quickly scale my SaaS business?
To quickly scale a SaaS business, focus on high-impact growth strategies such as getting ultra-clear on customer needs and outbound sales outreach.
Another way to scale a SaaS company is to focus on product-market fit and constantly iterate on the product to ensure it meets the target market's needs.
How do you scale a B2B SaaS company?
Scaling a B2B SaaS company requires strong customer relationships and clarity on your ideal client persona (ICP). Think through what qualifies a given company or account to use your solution. Iterate on the product to meet the evolving needs of those qualified accounts.
Scaling in B2B means growing through partnerships and resellers. These partnerships could also be technical partnerships or strategic alliances in nature. B2B SaaS companies should emphasize the value they bring users by adding product features to engage and retain more accounts. 
How do you scale product development?
Product leaders might feel challenged at scaling or accelerating product development with a limited engineering staff or budget.
To ship new product features faster, prioritize the most impactful features and improvements based on customer needs and revenue impact. Ensure your team is working on the most meaningful features.
For instance, one way to scale product development is to offload some features from in-house to a white-label landing page builder like Convrrt. This approach helps product teams scale by lowering engineering needs without sacrificing customer value.