The global virtual events industry is essential to engage a captive audience online. The primary reason for its growing popularity is how convenient they make it for businesses to conduct important events like webinars, product launches, symposia, and annual stakeholder meetings.
For instance, when you need to hold an urgent shareholder meeting to instill confidence among investors ahead of a big announcement, waiting too long can be dangerous. Virtual events help you avoid the hassle (and cost) of getting all stakeholders together at the same place within a short amount of time.
But what exactly are virtual events? How can your business use them? Here's everything you need to know about them.
What are virtual events?
Virtual events are conferences or real-time meetings held and managed entirely over the internet. These events can be attended by people (everyone, including both the hosts and attendees) over the internet using simple video calling technology.
While the pandemic saw a surge in virtual events, they can continue to be a popular way to engage audiences even as COVID subsides. Virtual events are more accessible and cost and time efficient, which makes them perfect for modern businesses like yours. But, can they really compete with the experience of an actual event? How do you manage important aspects like security for a virtual event?
This is where a virtual events platform can help.
Virtual event platforms are services that manage online meetings for small and large audiences. Hosts can broadcast their screens, use live (or pre-recorded) videos, and interact with attendees in an organized manner. These platforms are built to provide the functionality your events might need. Depending on your business needs, virtual event platforms can be customized down to the last T.
For instance, if you're hosting an exclusive product launch, confidentiality will likely be your biggest concern. You might want to ensure that no uninvited guests make it to your event. This can be handled by a virtual event platform that only allows guest entry based on a secret login id and password sent to the guest list via email.
You can further integrate important features like ticket payments, self-registration, and VIP login onto your platform to customize your virtual events. Here are some of the key features you should look for in a virtual events platform.
Key features of a virtual events platform
While the actual event flow and platform UI might vary depending on the type of event, most professional virtual events have certain features that allow for better audience engagement and efficient event management.
Branding
One of the key purposes a virtual event serves is marketing your business and its products to potential customers. Virtual events present an excellent opportunity for businesses to market themselves and their products by educating customers about the field, why they need their products, and how they can benefit from them.
An excellent way to do this is to ensure that the virtual event platform is custom branded. This includes everything from a simple header/footer banner or a custom UI color scheme to custom-coded icons and buttons that carry the company branding in some form. This makes the virtual event platform look more professional and establishes a sense of trust and brand credibility among the users.
Social Media Marketing
As a general rule of thumb, social media platforms can help give an edge to most digital business processes, and virtual events are no different. Businesses can leverage their social media presence to market their events and generate hype around them. They can also use social media to increase consumer engagement ahead of the virtual events for more attendees and potential sales leads.
The most important thing social media platforms allow businesses to do is market their events to their target demographic. Advertisements run on sites like Instagram and Facebook can be customized to reach the maximum number of users within your target demographic. This helps you generate higher-quality leads for your events.
Fundraising integrations
For fundraising events, your topmost priority should be making it easier for attendees to donate to your organization. Fundraising integrations can help you do this efficiently without having to put your staff or customers through the hassle of switching platforms to make and process payments during events.
You can integrate text-to-give or silent auction modules onto your virtual events platform to allow attendees to donate throughout the event. These features also allow for easy payment processing, which reduces the administrative burden on your part.
Audience interaction
No one likes a boring event. If all your event has is speakers (which is often the case with webinars) who come, get their points across and leave, the audience will likely be bored and won't retain the information being conveyed as well as they should. You can avoid this by integrating fun, interactive features onto your virtual events platform.
Features like audience quizzes and polls allow your speakers to keep your session lively and interactive while also getting valuable feedback live from the audience. Chat features like live discussion threads and audience input can easily be integrated onto your virtual events platform using in-built or third-party APIs.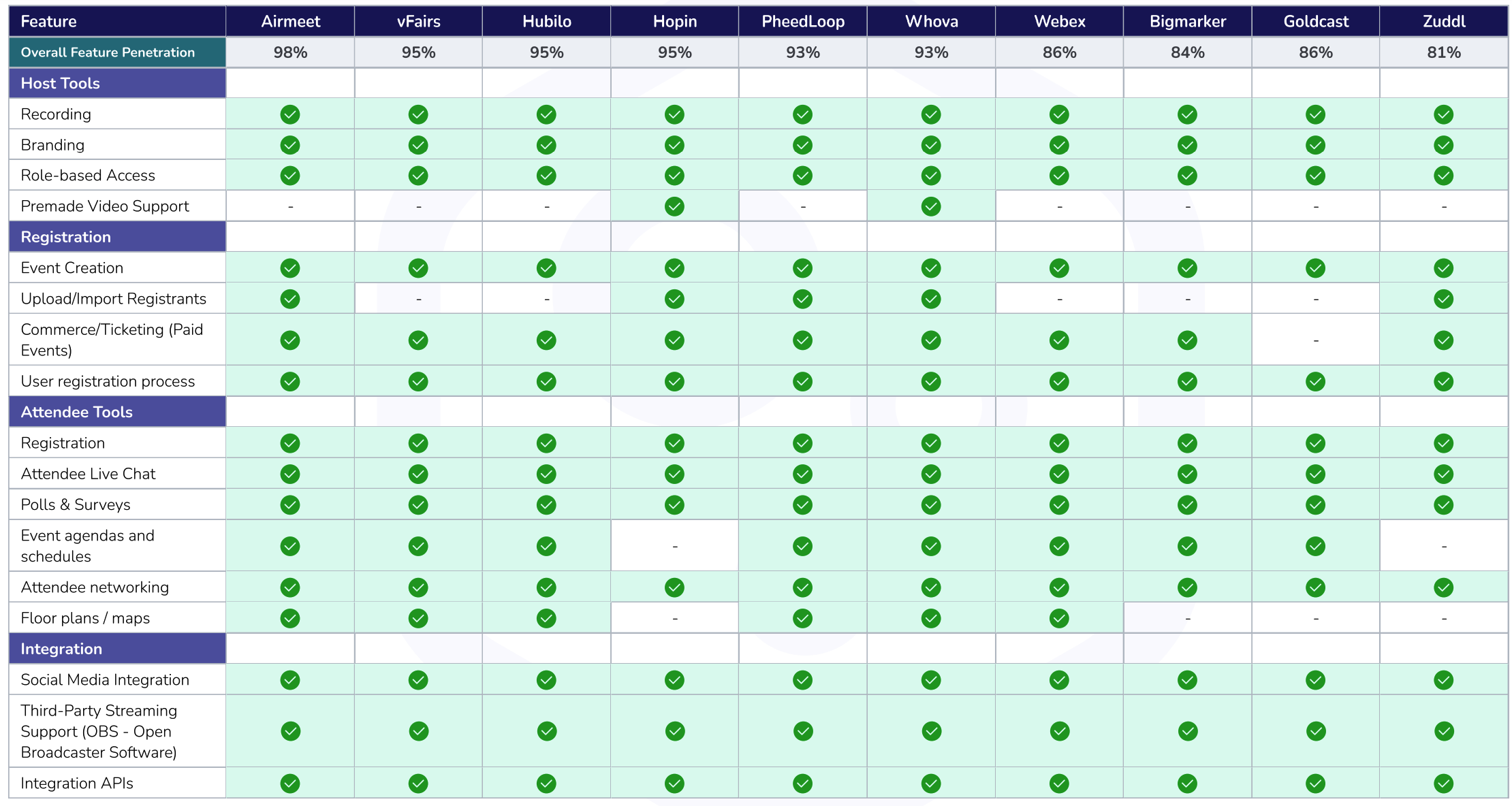 Estimated costs
The estimated cost of your virtual events will vary depending on the kind of event you're hosting and the platform you're using to host them. Small private events held on platforms like Zoom or Microsoft Teams can be organized for free (excluding the speaker charges, of course). If you're looking to organize a bigger event on these platforms with 100-1000 attendees, you might have to pay monthly subscription charges.
A Zoom Webinar subscription costs $40.00 per month for one host and up to 100 participants. For events with up to 10,000 participants and one host, the cost is $6,490 per month. Other platforms like GoToWebinar cost $59 per month for one organizer and 100 participants and $499 per month for one host and up to 3,000 participants.
If you're getting a custom virtual events platform built for your event, you'll have to pay anywhere at least $10,000 per month depending on the purpose and complexity of your platform. Typically, these are for companies with large user conferences spanning multiple days where there's an always-on agenda.
Be aware of hidden costs like credit card payment processing fees if you happen to sell tickets to the event as well as the likelihood of multiple people emailing support requests for assistance logging on.
Top-rated virtual events platforms
To determine the best virtual events platforms, we examined the entire market, and each platform's features, presence, and value. We have compiled the results into a free detailed report. Here is a summary of the top three best virtual events platforms on the web.
No opt-in. Instant access.
Hopin is by far the most popular event hosting platform available on the internet, generating average monthly traffic of 2,800,000 users. It has a host of features that allow you to boost engagement.
Whova generates average traffic of 1,200,000 monthly users. Whova is known for being mobile phone friendly and offering overall strong value for event organizers.
Bigmarker, which sees an average of 1,100,000 users per month on its website, is powerful and appealing.
Other notable mentions with 500,000+ average monthly users include Socio (acquired by WebEx), Vfairs, and Airmeet. All of the listed vendors have a strong market presence and are backed by credible customer reviews.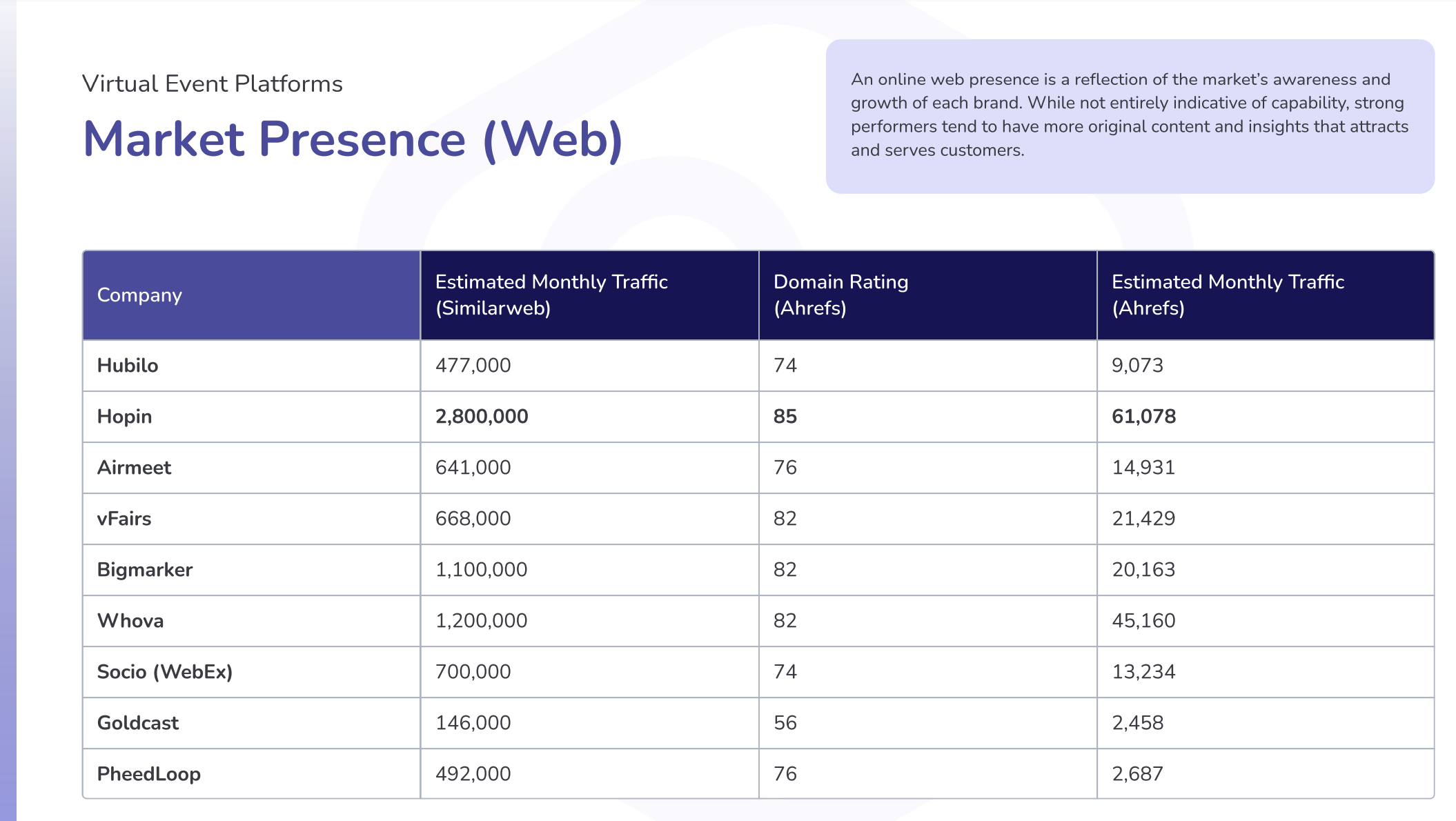 Events Industry Recommendations
Across the board, virtual event software companies should focus on delivering more, fully integrated value to users. To do this, consider offering an intuitive page publishing feature into your experience so users sell tickets, build on-brand event agendas, and craft a more enriching sponsorship experience.
As the demand for virtual events softens in late 2022, customers need to set their events up faster without as much technical legwork involved. Here are a few opportunities we see:
Landing pages – For conversion-friendly registration, speaker information, sponsor engagement, and lead generation.
E-commerce functionality – To easily accept and process payments for entry and donations right onto the platform.
Pre-event marketing – To help you capitalize on your existing customer base/audience across platforms and build up hype before your event. Trigger dynamic marketing campaigns based on attendee/event status.
---
If you wish to better understand the global virtual events industry and its inner workings, read our comprehensive industry report. We list market trends and leading vendors who are helping reshape the industry.