A customer database, commonly known as a CRM, is the cornerstone of almost every business. As a result, hundreds of CRM software companies have emerged throughout the past decade, vying to become every business's sales, marketing, and financial hub.
It is no wonder that ​​91% of small businesses with more than 11 employees use CRM software, according to Tech Cocktail. It makes it easier for them to access consumer data and convert leads into sales. With all this data at their fingertips, the return on investment of CRM software can exceed 245% when properly implemented.
Not all CRM solutions are alike.
Each CRM platform has a different approach. Some focus on customer relations, and others are an all-in-one cockpit for sales teams. So, which should you choose?
It would be easy to list a dozen different CRM tools with the most lucrative partner program (I suppose if you want that, check out PCMag or BusinessNewsDaily). Instead, we wanted to showcase the top CRM software vendors from a different lens: feature comparison, customer sentiment, and market presence.
We analyzed the top 20 CRM providers on the market and narrowed it down to six. Then we explored the popular CRM features made available for users. Finally, we examined each CRM suite to help you decide which CRM platform to choose in 2023.
No opt-in. Free access.
CRM Software Basics
Customer Relationship Management is a system that helps businesses consolidate all of their sales and customer data into a single application. A company typically only uses one CRM software, but they might choose a customer support-oriented flavor over a financial/business intelligence one for select working groups.
Choosing the right customer relationship management software is vital because migration is … we'll just say it … a nightmare. No small business wants to have to import old data while dealing with duplication and lost prospect intelligence.
If you choose too vast a CRM software, you could spend months learning it and sourcing a consultant who knows the CRM vendor. (They're not inexpensive — fair warning.)
But with too small or narrow a CRM tool, you could find yourself wrangling with forcing it to do things it never intended. This frugality pushes sales reps to go rogue, customer data not to be captured, and inhibits growth with a lack of modern marketing automation features.
Types of CRM software
To select a CRM software platform that suits your needs, get a feel for the different types of CRMs and how they function.
Operational CRM: An operational CRM focuses on a customer's relationship with your company. It offers you tools to engage throughout the customer journey. From their first contact with your website to sales, marketing, and client servicing, an Operational CRM optimizes the whole process. Most CRM software on the market in 2023 is this type of CRM.

Collaborative CRM: Collaborative systems help improve communication and access to data between different departments within your company. Sales, Marketing, and Customer Service teams often need help sharing data. Collaborative CRMs focus on customer support and streamline the helpdesk experience with smooth agent-customer handoffs.

Analytical CRM: An analytical CRM organizes and evaluates your data to help you make better business decisions. While most large businesses collect data, not all know how to analyze it and draw actionable conclusions. An analytical CRM helps draw meaning from data about customer behaviors and trends that can further your sales goals. Business intelligence (BI) software apps have primarily replaced the analytical CRM suite.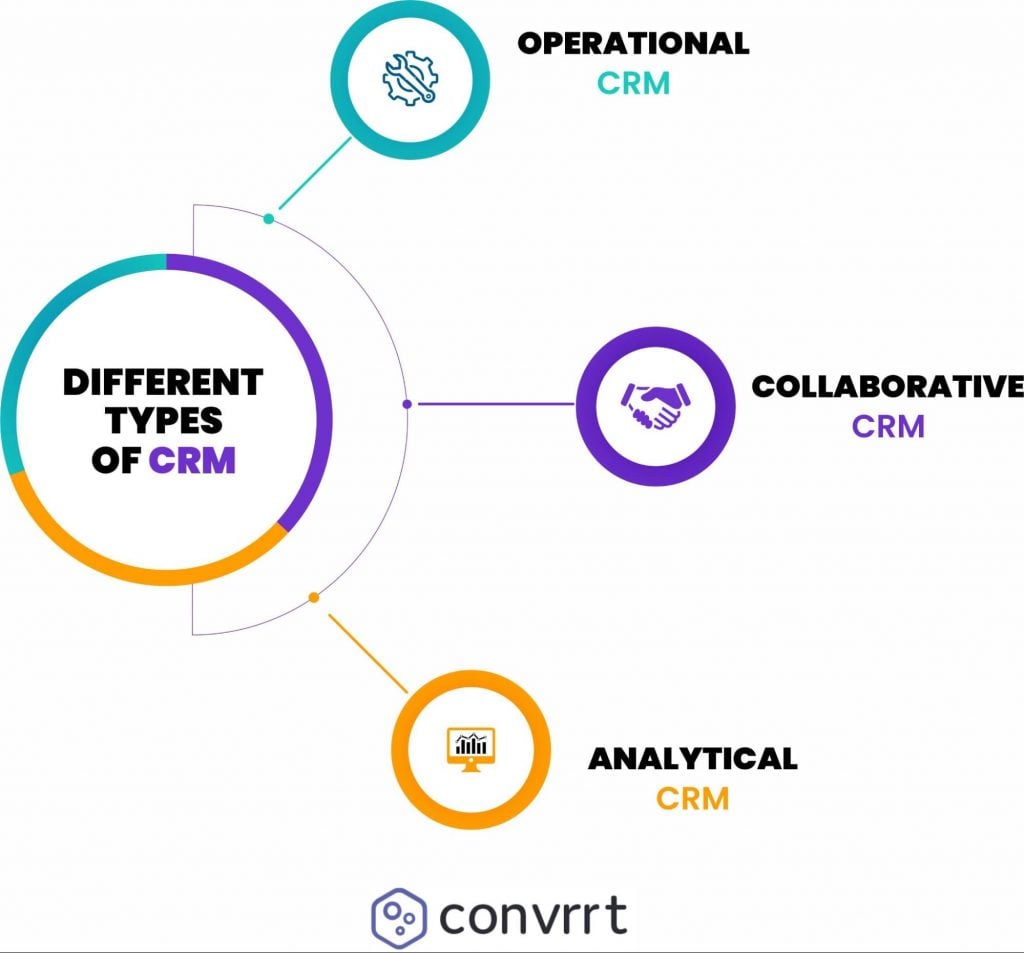 Over the last few years, a more significant consolidation of CRM functions has occurred where all the features are available from one vendor versus disparate ones.
Key Features In CRM Systems
There are many important features you can expect from a CRM platform. Different cloud CRM tools offer a unique blend of the following features:
Email Marketing: This involves automating the process of sending bulk emails.
Landing Pages: Many high-end CRM services offer landing page builder tools and integrations.
Marketing Automation: This helps automate the process of running marketing campaigns based on preset or dynamic conditions.
Sales Automation: This involves automating processes like follow-ups with clients, lead qualification, and essential sales team functions.
Contact Management: CRM systems help manage and store large amounts of customer information and records, including intent data services.
Marketing Analytics: Generating data-driven analysis of marketing campaigns.
Sales Management: This involves managing the different steps in a customer's journey toward a purchase, including invoicing, quoting, and contract acceptance.
Meeting Booker: Creating and managing a business' shared work calendar, including collecting leads after sending prospects a gift.
Lead Management: Secure and keep records of new leads to convert into potential sales. Move them into onboarding or customer support after purchase automatically.
Social Media Integration: Engaging with your social media channels. The best CRM software tools display a contact's recent social media activities.
Task Reminders: This involves setting alerts for crucial tasks and reminding CRM users of deliverables such as checking on an account, sending a thank-you note, or simply returning a phone call.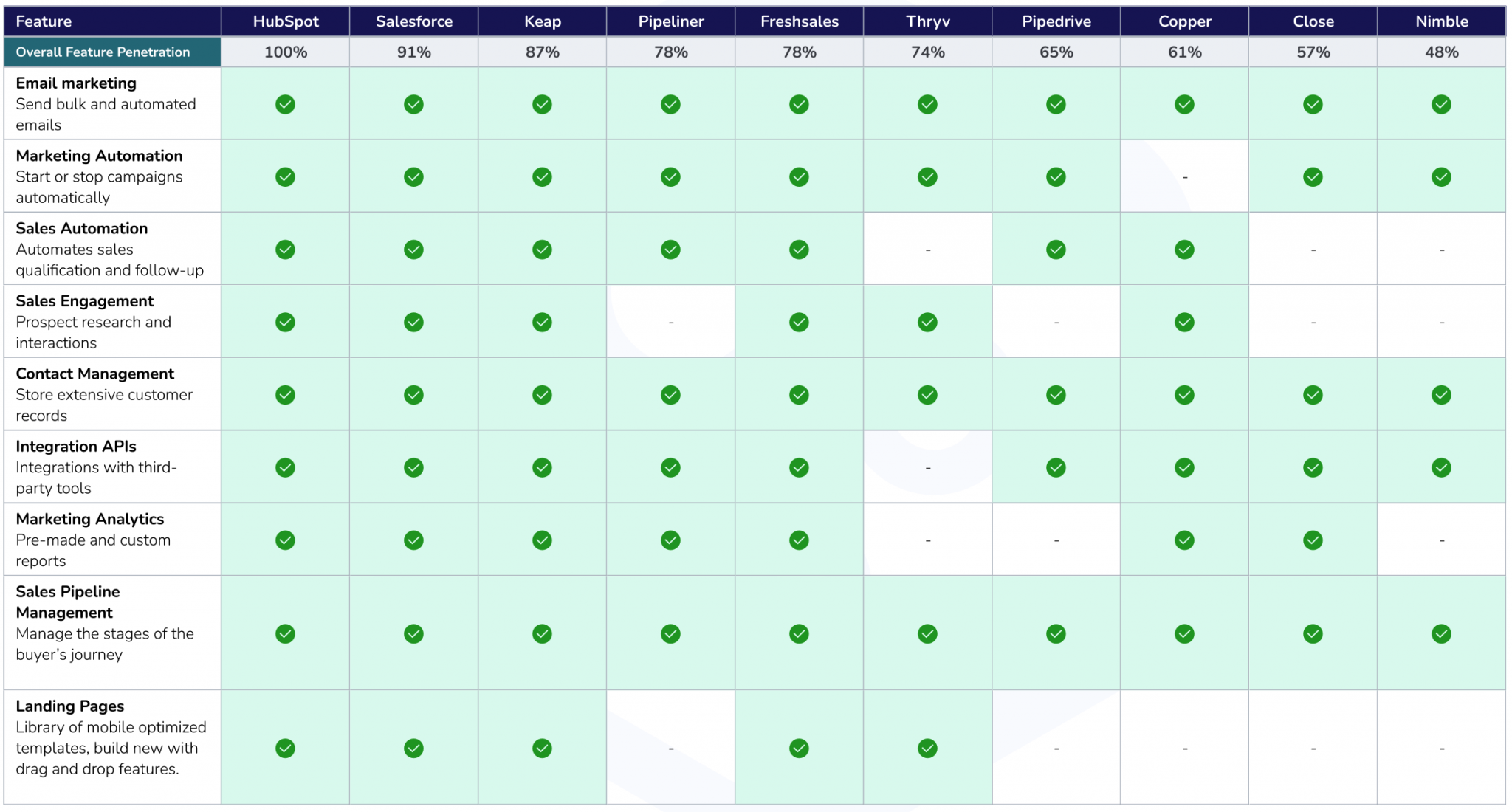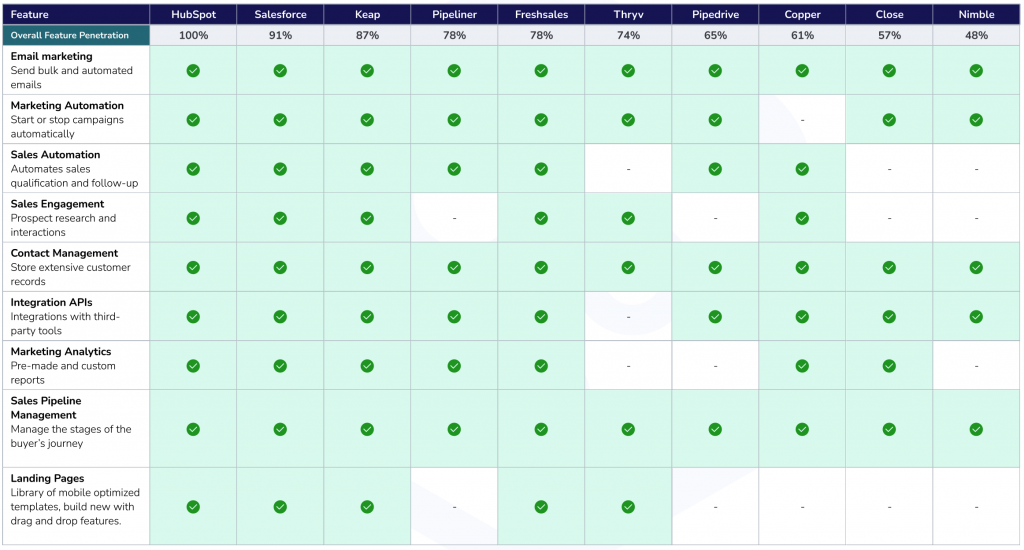 Estimated Costs of CRM Software
Purchasing a CRM platform that fits your budget and creates enough value to justify the expenditure is crucial to every business. Here is the starting price for the top CRM software available on the market. All costs are per user, per month:
Keap: $79
Microsoft Dynamics: $65
Pipeliner: $65
Close: $29
Salesforce: $25
Copper: $25
HubSpot: $22.50
Pipedrive: $12.5
Nimble: $19
Top-Rated CRM Based On User Reviews
Choosing customer relationship management software for your business involves considering several factors. These include budget, features, setup, installation, integrations, and goals. While there is no way for anyone to tell you which software to buy, there are ways in which we can help you arrive at your decision.
One key metric to judge any CRM software by is customer reviews. The experiences of other companies with the software can help you decide if it will be the right choice for your business.
In our recent study, we went one step further and ranked the top CRM services according to customer reviews.
Let's take a look at our top five:
1) Salesforce
A giant of the CRM space, Salesforce offers an essential plan best suited to small businesses. For more established companies, Salesforce offers pro-level agreements at higher costs that incorporate sales, marketing, and communications services. Out of 12,619 customer reviews on G2, Salesforce bagged 11,303 positive reviews.
2) Keap
CRM powerhouses like Keap offer competitive prices and can offer equally high-quality services as some of the more established services. But, like Avis, their #2 position forces them to try harder. Keap is user-friendly and ideal for smaller businesses that still need many features along the customer lifecycle. Its CRM software comes in two flavors: a more straightforward "small business" focused one (Pro and Max) and a more mature, mid-market CRM option (Max Classic) backed by a vibrant partner community. Out of 1,370 reviews, it received 1,189 positive reviews.
3) ActiveCampaign
ActiveCampaign is very popular as an automation tool. Its true strength lies in how it automates marketing processes. Both new businesses and established ones love Active Campaign. Out of 9,914 reviews, it received 9,264 positive reviews, reflecting an impressive 97% positive sentiment!
4) HubSpot
With 8,931 reviews on G2, 8,323 reviews were favorable. HubSpot's basic plan is perfect for new businesses seeking sales and marketing management. HubSpot also has integration options for about 1,000 applications. However, its annual contract pricing and aggressive in-product limits make it a better fit for mid-market organizations with a hefty budget.
5) Pipedrive
Proficient in data visualization, Pipedrive is a worthy CRM solution. It optimizes internal communication to improve processes across departments. Its CRM is tailored for sales teams saving them time and building sales pipeline. Out of 1,526 reviews, it received 1,367 positive reviews.
CRM Providers With a Strong Market Presence
Convrrt collected data about some of the leading CRM brands' online web presence. This snapshot gave us insights into the market's awareness and growth of each brand.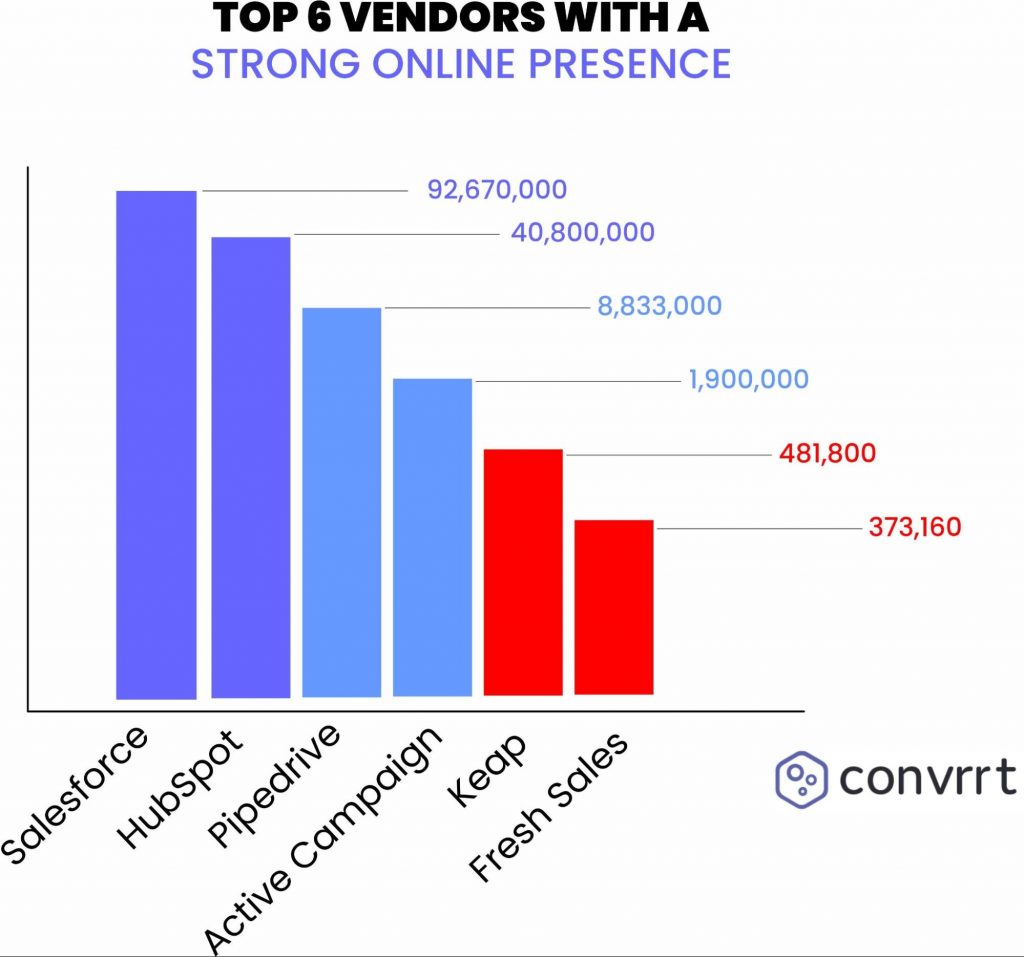 Based on this data, we compiled a list of the top CRM companies with a significant market presence. Here are our top six based on estimated monthly traffic on Similarweb.
Salesforce: 92,670,000
HubSpot: 40,800,000
Freshsales: 373,160
Pipedrive: 8,833,000
Active Campaign: 1,900,000
Keap: 481,800
Looking Ahead: 2023 CRM Industry Trends
With rising innovation and feature integration, customers of CRM software services crave more value than ever. CRM software can now provide real-time contact intelligence to its users as a data collection and analysis system.
CRM buyers no longer tolerate incomplete features or a lack of seamless integrations. In previous years, CRM users would subsidize the development of middleware and patches to achieve the desired function. Not anymore.
Some of the latest trends to watch out for when choosing a CRM service include:
TREND #1: High-performing CRMs offer landing page capabilities.
Building an impressive and functional landing page is vital for any business. A CRM service incorporating this into its application can significantly add customer value. Convrrt, for example, is a landing page builder that can be integrated with CRM software natively.
TREND #2: CRM companies bundle more valuable services into their platform at no extra charge.
This trend contrasts sharply with software that functions merely as point platforms that allow third-party integrations. As budgets get trimmed, the B2B software that remains is the one seen as critical to day-to-day operations. With countless choices in the market, an all-in-one option is a distinct competitive advantage.
TREND #3: Hyper-personalization is the way forward in the world of SaaS.
CRM solutions don't only manage your contacts anymore. They collect, organize and manage data from almost every aspect of your business. Practical and precise data collection and analysis will allow firms to offer customers a more personalized experience that will help drive sales. These always-on data feeds help make a user's CRM experience more relevant.
Download free for a limited time. No email or opt-in.
If you'd like to understand the CRM software market better so you can decide which software to invest in, grab a free copy of our CRM Platforms Comparison Report. This research report lists our top CRM software based on the market presence in further detail. In addition, we take you through all the features you should expect in different software services.